Emergency medicine residents take part in mass casualty exercise
(SACRAMENTO)
The Integrated Emergency Medicine Residency Program recently conducted a mass casualty (MASCAL) exercise in collaboration with David Grant USAF Medical Center at Travis Air Force Base.
The joint training event involved military and civilian emergency medicine residents from UC Davis Health as well as staff. A team of emergency medicine residents took part in a simulated humanitarian mission, responding to the scene of a building collapse caused by an earthquake.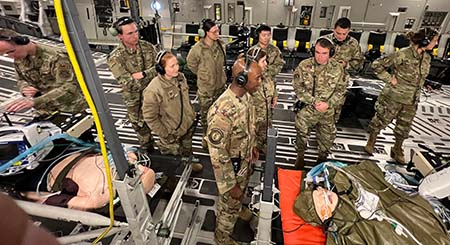 "Triage is the cornerstone of emergency medicine," explained Roderick Fontenette, Air Force Lt. Colonel and associate program director of the military emergency medicine residents at UC Davis. "This exercise provided our military emergency medicine residents a glimpse into what they could experience when deployed as a member of a Critical Care Air Transport Team (CCATT) and the cross-organizational teamwork required to treat and transport critically ill and injured patients."
When the residents arrived at the MASCAL exercise, they triaged the civilian emergency residents playing the role of casualties with various injuries. They then provided medical management on scene, and evacuated patients via a Black Hawk helicopter. Following stabilization, the patients were then loaded into a C-17 miliary aircraft and transported while being cared for in flight.
"Deployed medicine has unique challenges that you traditionally aren't exposed to when caring for patients in a hospital setting," said Fontenette. "Concepts such as resource utilization and team management are vitally important when treating patients in the field or in flight. This exercise gives our military residents a better sense of experiences that await them on active duty."
Because we are a level I trauma center, UC Davis closely mirrors the experience of being a military health care professional. Upon graduation, these military residents are well-prepared and trained to care for patients in any environment and setting, thanks to their training received here at UC Davis Medical Center."
In 2016, the UC Davis Department of Emergency Medicine and Emergency Medicine Residency Program partnered with the US Air Force to become the fourth (and only civilian) integrated residency training program. The partnership is integral to the development of the Air Force medical corps. Each year, the program graduates five board-eligible emergency physicians who will be deployed to active-duty assignments.
"Because we are a level I trauma center, UC Davis closely mirrors the experience of being a military health care professional," said Fontenette. "Upon graduation, these military residents are well-prepared and trained to care for patients in any environment and setting, thanks to their training received here at UC Davis Medical Center."