Neurology chair receives Ambassador for Epilepsy Award
(SACRAMENTO)
Amy Brooks-Kayal, chair of the UC Davis Department of Neurology, has received the Ambassador for Epilepsy Award from the International Bureau for Epilepsy and the International League Against Epilepsy. The honor is in recognition of outstanding achievement in the international struggle against epilepsy.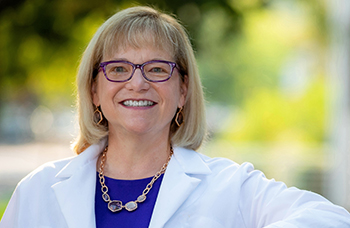 Brooks-Kayal is one of 12 individuals around the world to receive this award, which is given every two years to clinicians and researchers who have made outstanding contributions to activities advancing the cause of epilepsy internationally or with international impact. She will receive the award at the 34th International Epilepsy Congress, which will be held virtually in August.
"I'm really honored to receive this award and be recognized by my peers internationally for making an impact on improving treatment for epilepsy," Brooks-Kayal said. "It's important for the epilepsy community and people with epilepsy and their families to recognize that our community is committed to developing better treatments and hopefully cures for the epilepsies."
Brooks-Kayal was nominated by the American Epilepsy Society (AES), of which she has been a member for more than 30 years. During that time she has served on the AES Board of Directors, as president and vice president, as well as on various committees, and continues to be involved in the organization. She also received the AES Founders Award in 2019 in recognition of her lifetime contributions to the field of epilepsy.
Brooks-Kayal noted that the Ambassador for Epilepsy Award is especially meaningful because of her lifelong commitment to treating children with epilepsy.
"Epilepsy is challenging and not very well understood, and kids with the disease can feel very isolated," she said. "All of the awardees are dedicated professionals who've had a major impact on improving treatment of epilepsy. It's important for people to know we're out here and trying to help, and it's also good for those who are recognized to know that they're part of a group working towards a common goal."