UC Davis Medical Center receives national awards for stroke and heart failure care
The American Heart Association presents the awards for commitment to the latest national treatment guidelines
(SACRAMENTO)
UC Davis Medical Center has been recognized by the American Heart Association (AHA) with multiple awards for its commitment to following researched-based guidelines for treating stroke and heart failure patients.
The American Heart Association presents the Get With The Guidelines® awards for proven dedication to best practices and life-saving care. These standards ultimately lead to more lives saved, shorter recovery times and fewer readmissions to the hospital.
UC Davis Health received the following awards: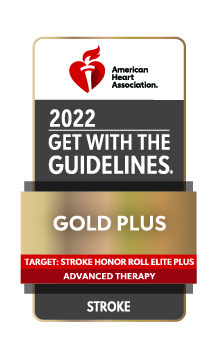 Stroke Gold Plus: Hospitals who receive the Stroke Gold Plus award reach an aggressive goal of treating patients to core standard levels of care for at least two consecutive years.
Target Stroke Honor Roll Elite Plus: To receive this award, hospitals must meet quality measures developed to reduce the time between the patient's arrival at the hospital and treatment with a clot-buster drug.
Advanced Therapy Award: This award also recognizes hospitals for the speed at which they deliver clot-busting drugs to stroke patients once they arrive at the hospital: 90 minutes or less for patients arriving in the emergency department and 60 minutes or less for transfer patients.
Heart Failure Bronze Award: This award honors proven dedication to ensuring all heart failure patients have access to best practices and life-saving care.
"This is an amazing achievement for the hospital and a tribute to all the hard work the members of the Comprehensive Stroke Center have placed on patient care excellence and advocacy," said Kwan L. Ng, director of the Comprehensive Stroke Center and vice chair of Inpatient Neurology.
This is an amazing achievement for the hospital and a tribute to all the hard work the members of the Comprehensive Stroke Center have placed on patient care excellence and advocacy."
What is stroke?
A stroke occurs when one of the blood vessels that carries oxygen and nutrients to the brain is blocked by a clot (ischemic stroke) or bursts (hemorrhagic stroke), causing parts of the brain to die. Another type of cerebrovascular event — known as a transient ischemic attack, or TIA — is caused by a temporary blood clot and often called a "warning stroke."
Stroke is the No. 5 cause of death and a leading cause of adult disability in the U.S. On average, someone in the U.S. suffers a stroke every 40 seconds, and nearly 795,000 people suffer a new or recurrent stroke each year. Early stroke detection and treatment are key to improving survival, minimizing disability and speeding recovery times.
Know the symptoms of stroke
When it comes to stroke symptoms and actions, remember two words — BE FAST. It stands for:
B – balance loss, especially sudden
E – eyesight loss, especially sudden
F – face drooping or numbness
A – arm weakness or numbness
S – speech difficulty, especially slurred speech
T – time to call 911
Other common stroke symptoms that should trigger a call for an immediate emergency response include sudden:
numbness or weakness in a leg or on one side of the body
confusion or trouble understanding speech
trouble walking, dizziness or coordination
severe headache with no known cause
What is heart failure?
Heart failure is a condition that worsens over time. When your heart starts to fail, the rest of your body does not get enough blood and oxygen. Everyday tasks like walking, climbing stairs or carrying groceries can become a struggle. It is important to detect signs of the disease early. The sooner you receive an accurate diagnosis, the sooner you can start treatments to protect your heart.
These awards are categorized as Get With The Guidelines® Performance Achievement Awards for stroke and heart failure, meaning recipients help ensure that the care provided to patients is aligned with the latest research-based guidelines based on scientific evidence. Participation in Get With The Guidelines is associated with improved patient outcomes, fewer readmissions and lower mortality rates – a win for health care systems, families and communities. It's a difference that shows in the lives of patients and their families and in the satisfaction felt by caregivers empowered to do their best.
More information on Get With The Guidelines is available on the American Heart Association website.
UC Davis Medical Center has a comprehensive system for the diagnosis, treatment and outpatient management of cerebrovascular disease. More information is on the medical center website.