Study suggests holistic admissions policies increase medical school diversity
New research also reinforces the importance of pre-med Postbaccalaureate programs to better prepare applicants
(SACRAMENTO)
College graduates seeking to boost their pre-med credentials to prepare for applying to medical school can enroll in a Postbaccalaureate program at several UC campuses and other institutions. These programs offer a science-focused curriculum designed to enhance a student's competitiveness for admission.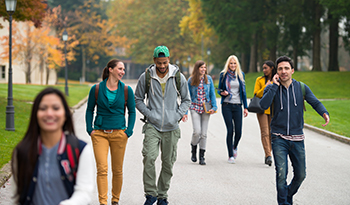 Postbaccalaureate (post-bacc for short) programs, including UC Davis's own, have for many years led to an increase in the number of medical school applicants from underrepresented and disadvantaged backgrounds, which leads to a more diverse medical field.
Most scientific research about these programs is outdated, but a new study involving UC Davis School of Medicine faculty members confirms that among students admitted to UC medical schools, those who had completed post-bacc coursework before admission were indeed more likely to be from an underrepresented in medicine (UIM) racial or ethnic group than those who did not complete post-bacc coursework.
"We wanted to examine how well post-bacc coursework seems to facilitate entry of such students," said lead researcher Anthony Jerant, chair of the Department of Family and Community Medicine. "We think it is imperative that we work toward training a physician workforce with characteristics that mirror those of the general California population – and are still a long way away from doing that at most medical schools."
The study – believed to be the only one to use data collected within the past 15 years – explores the connection between post-bacc coursework hours and medical students' backgrounds, academic performance and pursuit of primary care training.
While many post-bacc applicants belong to UIM racial and ethnic groups, a growing number of medical school applicants have also benefitted from recent changes to how schools approach admissions.
UC Davis has one of the most diverse medical schools in the nation
Jerant noted that UC Davis does much better than most other institutions. The School of Medicine, in fact, ranks fourth in the country this year in the U.S. News and World Report Most Diverse Medical Schools ranking.
The post-bacc study relied on data from five UC medical schools: Davis, San Francisco, Los Angeles, Irvine and San Diego.
Researchers also found that:
Students who had completed post-bacc coursework scored about the same on medical licensing examinations as students who did not. "For us, this means that absolutely students who did post-bacc coursework to bolster their readiness for medical school deserve strong consideration for admission. This should not be something application screeners look down on," Jerant said.
Students in the highest post-bacc coursework hours category tended to be older and fewer were from UIM backgrounds. Jerant said this category consists primarily of individuals changing to medicine from another profession, thus needing to complete many science prerequisites.
Post-bacc coursework was not associated with a higher match rate for primary care residency. This contrasted with findings of some earlier studies, but those studies failed to adjust for other factors even more strongly associated with primary care training, such as UIM race and ethnicity. Those factors were accounted for in the new study.
Jerant said completing post-bacc coursework can help "level the playing field" for medical school admission, especially for students with less conventional paths to medicine. But the programs, he added, should not be the only option for students who want to increase their chance of getting into medical school.
For example, he praised the UC Davis School of Medicine for its holistic approach to recruitment – which considers a number of factors in an applicants' background that go well beyond grade-point averages and results of the Medical College Admission Test – to decide which students to admit.
"Extremely high GPA and MCAT scores may seem like comforting numbers to focus on for admissions screening, but really aren't known to predict who becomes a great physician," Jerant said. "So why do so many schools place so much emphasis on those numbers, often with little consideration of other application factors — especially when there is a critical need for a more representative group of physicians?"
Holistic admissions boost diversity
As a result of holistic admissions, more students from UIM backgrounds are accepted into the school. Many of those students, Jerant said, then fill physician shortages in places with the greatest need, such as the Central Valley. Often students who grew up in such medically underserved regions want to return to practice in those areas.
Therefore, another option for broadening medical school admission, he said, is for more schools to adopt holistic practices similar to those now in place at UC Davis. This approach could lead to fewer students needing to complete post-bacc coursework, which further increases the high cost and long duration of medical training, both already particularly burdensome for UIM students.
"The approach we suggest could be justified for broad use among U.S. medical schools in the interest of increasing class diversity and improving the representation of the physician workforce by turning out graduating classes that mirror the demographics of the general population," Jerant said.
For example, currently Latinos represent about 40 % of California's population yet represent less than 12% of California medical school graduates and only 6% of practicing physicians. Others have pointed out that at this rate, it will take 500 years for the number of Latino physicians to be proportional to state's Latino population.
The post-bacc study involved seven co-authors, including three others from UC Davis: Tonya Fancher, associate dean for workforce innovation and community engagement; Mark Henderson, associate dean for admissions; and Peter Franks, professor emeritus of Family and Community Medicine.
Their paper is titled, "Associations of Postbaccalaureate Coursework with Underrepresented Race/Ethnicity, Academic Performance, and Primary Care Training among Matriculants at Five California Medical Schools."
It is published in the current quarterly issue of the Journal of Health Care for the Poor and Underserved.