Michael Condrin, M.B.A.
Interim Chief Administrator, UC Davis Medical Center and Chief Operating Officer, Hospital Division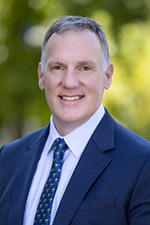 Michael Condrin, M.B.A., is the Interim Chief Administrator for UC Davis Medical Center and Chief Operating Officer for UC Davis Health Hospital Division.
Condrin's responsibilities include all inpatient care for UC Davis Health, including UC Davis Medical Center and UC Davis Children's Hospital, an acute care academic medical center providing a full range of inpatient acute and intensive care, and a full complement of ancillary and support services. He oversees UC Davis Health's level 1 trauma and emergency services and surgery and post-operative care services. Condrin is responsible for the health system's operational, logistical, patient-support services, nursing and medical staff clinical operations, facility operations, and supply chain management.
In his role, Condrin ensures the quality of patient care and services and supports the teaching and research mission of the School of Medicine, the Betty Irene Moore School of Nursing, and the University while working to improve the patient experience and maintaining a dedicated, skilled staff that is committed to providing exceptional patient care. The position reports to David Lubarsky, Vice Chancellor of Human Health Sciences and Chief Executive Officer of UC Davis Health and Condrin will oversee the Interim Chief Operating Officer of Ambulatory Care.
Condrin joined UC Davis Health in 2002 and has most recently served as the Chief Operating Officer for Ambulatory Care, where he oversaw all outpatient care at 74 clinics at 32 locations throughout the region. Under his leadership, Condrin also launched the Patient Contact Center, expanded telehealth capabilities and usage by patients, opened the Tschannen Eye Center and the Edwards Family Athletic Center for sports medicine clinic, as well as completed programming for the 48X Complex, the upcoming ambulatory surgery center, and the Folsom Medical Office Building.
Condrin's additional leadership positions at UC Davis Health include Executive Director for UC Davis Health Network and Affiliates, Director of Clinical Operations, and Assistant Dean of Administration in the School of Medicine. He earned a bachelor's in physiological sciences from the University of California, Los Angeles, a Master of Science in physical therapy from Boston University, and a Master of Business Administration from the University of California, Davis Graduate School of Management.