Inpatient glycemic team improves outcomes for patients with diabetes and hyperglycemia
(SACRAMENTO)
UC Davis Health's inpatient glycemic team, a specialized diabetes program, has had major success improving patient outcomes for patients in the hospital, thanks to an active consultation service. Active consults involve a team of specialists at the bedside.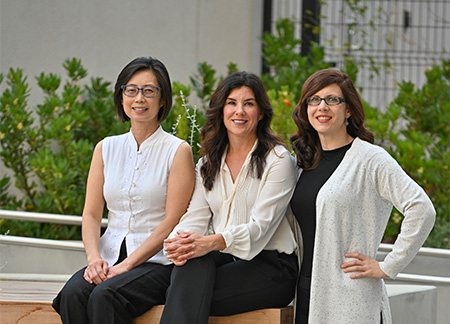 Thanks to this change, the team has seen shorter stay lengths and lower costs and readmission rates for hospitalized patients with hyperglycemia and diabetes.
Established in 2020, the inpatient glycemic team is the first specialized diabetes program for hospitalized patients in the Sacramento region. The team provides direct care through consults and follow-up visits for patients with diabetes or hyperglycemia while they are at UC Davis Medical Center.
The group also educates faculty, residents and staff in how to manage glycemic care. This includes working to align the medical center with current American Diabetes Association (ADA) standards of care for inpatient diabetes management and best practices for glycemic management in all areas of the medical center.
"Increasingly, many health systems are recognizing that diabetes is not merely a secondary diagnosis and that managing diabetes well while a patient is in the hospital is critical to delivering top-notch patient care," said Deborah Kathleen Plante, professor of endocrinology and director of the inpatient glycemic team. "Here at UC Davis, the efforts of our inpatient glycemic team have led to significant improvements in glycemic control and patient outcomes across the medical center."
Need for inpatient specialized diabetes program
According to the Centers for Disease Control and Prevention, more than 37 million Americans, or about 11.3 percent of the population, are living with diabetes. An estimated 96 million are living with prediabetes, a serious health condition that increases the risk of diabetes.
Studies have also shown about 40% of hospitalized patients are hyperglycemic, either due to diabetes or to stress induced hyperglycemia. Diabetes, or hyperglycemia, causes blood glucose levels to rise higher than normal, which is associated with increased risks for complications, longer hospital stays, higher costs of care and mortality.
"In recent years we have seen an increase in patients with diabetes and prediabetes, which has increased the burden placed on hospitals treating those patients," Plante explained. "Because poor glycemic control in the hospital setting is associated with worse clinical outcomes and higher rates of morbidity and mortality, the need for a dedicated inpatient glycemic control team has become vital to improving the quality and safety of care for inpatients with hyperglycemia and diabetes."
Here at UC Davis, the efforts of our inpatient glycemic team have led to significant improvements in glycemic control and patient outcomes across the Medical Center."
Why active consults
When UC Davis Health first adopted its inpatient diabetes management program the team utilized a virtual glucose management service model of care.
With virtual services, trained diabetes specialists look over daily automated reports about all incidents of hyperglycemia or hypoglycemia. The specialists then go into the patient's electronic records to recommend treatment changes.
"We started with that system, but as we looked at other academic institutions with specialized diabetes teams, we decided an active consult team was a better fit for us at UC Davis," Plante said.
The team consists of Plante, five nurse practitioners, a diabetes nurse specialist, a pediatric inpatient medical director and pediatric diabetes nurse specialist. They treat patients from the bedside and work directly with primary care providers to recommend treatment changes – hence the term "active consults."
"There are a lot of things that can be missed when only doing virtual surveillance," Plante explained. "Sometimes the notes for a patient do not always reflect what is actually happening at the bedside. Being at the bedside can give us more information, for example, how much the patient is eating, timing of insulin administration or if enteral nutrition has been held or stopped."
Success across the health system
Since the team's inception, UC Davis Medical Center has seen an improvement in its use of basal insulin and lower rates of hyperglycemia and hypoglycemia. The medical center is also in compliance with all current ADA standards of care for management of hospitalized patients with diabetes.
"We have established a sustainable infrastructure that is working well for us," Plante said. "We are improving diabetes literacy throughout the hospital and aligning our protocols with the inpatient standards put forth by the ADA. It is a continual process, and we feel we are headed in the right direction."