Is epinephrine effective during neonatal resuscitation?
(SACRAMENTO)
Epinephrine (adrenaline) is used in the delivery room to resuscitate newborn infants. Due to the infrequent need for its use and ethical challenges, it has been difficult for researchers to conduct randomized clinical trials to evaluate its efficacy.
UC Davis Health Researchers recently published a commentary in the journal Pediatric Research in which they review existing data on the efficacy of epinephrine during neonatal resuscitation.
The lead author of the piece was Deepika Sankaran, a neonatologist at UC Davis Children's Hospital and at Adventist Health and Rideout Hospital. She summarized the evidence supporting epinephrine use and presented the gaps in current knowledge in the optimal timing, route, dose and interval of epinephrine administration.
We asked Sankaran some questions about her findings.
When is epinephrine typically used?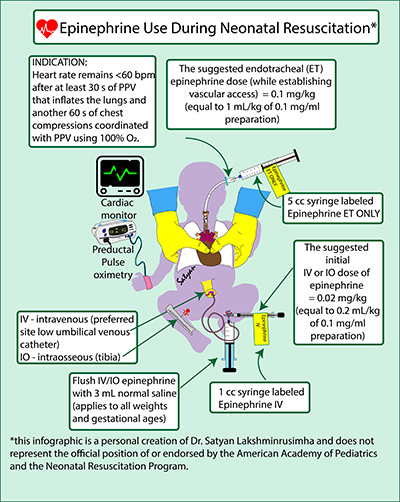 Epinephrine is used in the delivery room when newborns have a low heart rate under 60 beats per minute and are not responding to coordinated chest compressions and positive pressure ventilation.
Epinephrine is the only medication recommended by the International Liaison Committee on Resuscitation during resuscitation in newborns with persistent low heart rate (bradycardia) or when the electrical and mechanical activity of the newborn's heart stops (asystole).
What are some previous studies that you reviewed?
Andersen et. al. performed a novel randomized placebo-controlled trial in a newborn piglet model to investigate epinephrine's efficacy and its effect on magnetic resonance imaging (MRI) brain abnormality at 6 hours after birth. This study was published in a recent issue of the journal Pediatric Research.
Evidence supporting the efficacy of epinephrine in achieving return of spontaneous circulation (ROSC) during neonatal resuscitation is predominantly derived from translational studies in animal models.
Is epinephrine effective during neonatal resuscitation?
From large clinical retrospective studies, we discern that about half of the neonates who require chest compressions receive epinephrine during resuscitation (~0.05- 0.06% of births). Intravenous epinephrine is more effective in achieving ROSC compared to the endotracheal route.
Based on available evidence, we suggest a higher initial intravenous dose of 0.02 mg/kg of epinephrine. Initiating with a lower intravenous dose of epinephrine (0.01 mg/kg) necessitates repeated and escalating doses of epinephrine. Large multicenter observational studies and registries with long-term neurodevelopmental and cardiopulmonary follow-up are warranted to assess the impact of epinephrine use during resuscitation.
Other authors of this commentary include Satyan Lakshminrusimha, of UC Davis Children's Hospital, and Eleanor Malloy, of Trinity College Dublin Discipline of Paediatrics.
The work was supported in part by the Eunice Kennedy Shriver National Institute of Child Health and Human Development 5 R01 HD072929 09, a research grant from the American Academy of Pediatrics – Neonatal Resuscitation Program and a research grant from Children's Miracle Network at UC Davis.
Disclaimer: Satyan Lakshminrusimha is a member of the American Academy of Pediatrics (AAP), Neonatal Resuscitation Program (NRP) Steering Committee. The views expressed in this article and the infographic are the personal views and opinions of the authors and do not represent the AAP or NRP.