Education Curriculum
The academic year starts with a Neurology Boot Camp series during the first month of the PGY2 year. This is followed by structured monthly subspecialty topics that incorporate relevant hands-on simulation lab skills training. Protected time core didactics occur weekly every Tuesday afternoon, 1 – 5pm, and is mandatory attendance.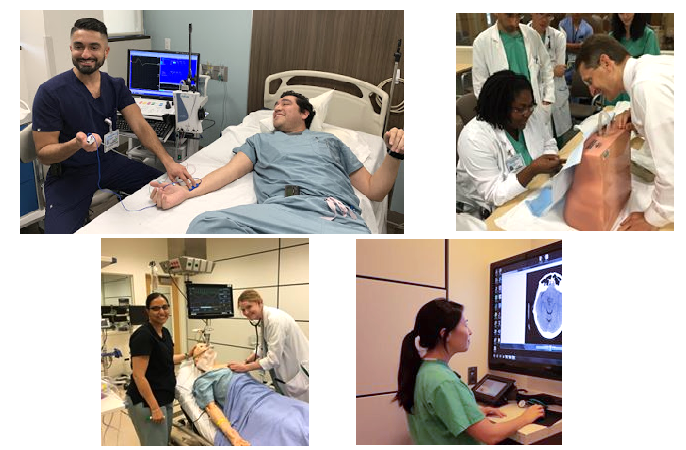 Neuroanatomy and Neuroscience Courses
The Neuroscience and Neuroanatomy Courses are independent 6-week lecture series blocks that cover fundamental and key concepts relevant for neurologists. The courses are taught by core education faculty and neuroscience scholars. The goal of these lecture series is to establish solid foundational knowledge in neuroanatomy and clinical neuroscience relevant for careers in neuroscience and clinical practice.
Residency In-Service Training Exam (RITE) Review Course
In preparation for the American Board of Psychiatry and Neurology Certification Exam, our residents take the annual AAN RITE exam to gauge personal knowledge and progress. We have 2 months of dedicated RITE preparation didactics in the months leading up to the examination.
Morning Report
We have weekly morning report run by a faculty member and chief resident. The interactive sessions focus on neuroanatomic localization, relevant diagnostic test interpretation, and development of differential diagnoses based on cases presented by housestaff.
Neuro-radiology Rounds
Interdisciplinary neuroradiology rounds for neurology and radiology residents occurs monthly and run jointly by neurology and neuroradiology faculty. The conference reviews interesting cases focusing on key neuroimaging findings.
Grand Rounds
Grand Rounds are held weekly every Tuesday at 1pm and provided by faculty and visiting scholars. Once monthly, a dedicated Clinicopathological Conference is presented by a resident supported by a faculty mentor, and neurology residents give a grand rounds lecture during their senior year based on their research or scholarly interest.
Journal Club and Continuum Club
Several journal clubs are held monthly for various disciplines and include neurovascular, epilepsy and deep brain stimulation. A critical review and evidence-based discussion is provided by the resident and supporting faculty. Additionally, a neurology journal "Continuum Club" is held and hosted by a faculty member monthly.
Subspecialty Conferences
We have several multidisciplinary subspecialty conferences which are embedded into clinic and elective rotations for residents to attend while on a specific rotation or when otherwise available. These include Epilepsy Case Conference, Deep Brain Stimulation Case Conference, Alzheimer's Clinicopathological Conference, Tumor Board, and Neurovascular Case Conference.
Morbidity, Mortality, Quality and Safety Conference
Our quarterly Morbidity and Mortality Conference focuses on initiates to improve quality patient care and related health education processes. The meeting is attended by Neurology and Neurocritical Care faculty to aide in case discussion and best practices. An additional unique, quarterly Quality and Safety Conference for faculty and residents focuses on health care initiatives, quality improvement and patient safety—a dedicated venue that allows residents to showcase their Quality Improvement Projects.