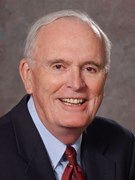 Barry R. Tharp, M.D.
Professor Emeritus
UC Davis Children's Hospital
Specialty: Pediatric Neurology
UC Davis MIND Institute
2825 50th St.
Sacramento, CA 95817
(916) 703-0300
Clinical & Research Interests
Barry R. Tharp is a general pediatric neurologist and electroencephalographer with particular interests in neonatal neurology, epilepsy and autism. He has written and lectured frequently on these topics in both this country and around the world.
Education
Cornell University Medical College
New York City, New York
M.D. 1962
Internships
Duke Medical Center
Durham, North Carolina
1962-63
Residency
Duke Medical Center
Durham, North Carolina
1963-67
Fellowships
Centre de Recherches de Biologie du Developpement Foetal et Neonatal, Hospital Port Royal
Paris
France
1976-77
Neurology
Stanford University Medical Center
Palo Alto, California
1967-69
Neurology
Board Certifications
American Board of Neurology and Psychiatry, 1972
American Board of Qualification in Electroencephalography and Clinical Neurophysiology, 1969
Professional Memberships
International Child Neurology Association
International Federation of Clinical Neurophysiology
Select Recent Publications
Heilstedt HA, Burgess DL, Anderson AE, Chedrawi A., Tharp, B., Lee O., Kashork DC, Starkey DE, Wu YQ, Noebels JL, Shaffer LG, Shapira SK, Loss of the potassium channel beta-subunit gene, KCNAB2, is associated with epilepsy in patients with 1p36 deletion syndrome. Epilepsia 42(9):1103-11, 2001.

Wilson S., Harner R., Duffy F., Tharp B., Nuwer M., Sperling M. Spike Detection I: Correlation and Reliability of Human Experts. EEG and Clinical Neurophysiology. 98(3):186-98, 1996.

Tan T., Vogel H., Tharp B., Carrol C., Kaplan K. Presumed Central Nervous System Whipple's Disease in a Child: Case Report. Clinical Infectious Diseases, 20:883-889, 1995.

Tharp, B. Unique EEG Pattern (Comb-like rhythm)in Neonatal Maple Syrup Urine Disease. Pediatric Neurology, 8:65-68, 1992.

Chequer R., Tharp B., Dreimane D., Hahn J., Clancy R., Coen R. The Prognostic Value of the EEG in Neonatal Meningitis: A Retrospective Study of 29 Infants. Pediatric Neurology, 8:417-422, 1992.

Hahn, J., and Tharp, B. The Dysmature EEG in Infants with Bronchopulmonary Dysplasia and its Prognostic Implications. EEG and Clinical Neurophysiol. 76:106-113, 1990 (Winner of the Brazier Award).

Tharp, B. Electrophysiological Brain Maturation in Premature Infants: An Historical Perspective. J. Clin. Neurophysiol., 7:302-314, 1990.

Tharp, B. Pediatric Electroencephalography. Current Opinion in Neurology and Neurosurgery, 3:750-756, 1990.

Tharp, B. Febrile Seizures: When to Treat. California Medicine, 150:569-570, 1989.

Blume, W., Moshe, S., Tharp, B. Electroencephalography and Pediatric Epilepsy. Cleveland Clinic J. of Med. 56 (Suppl. Pt. 2):S226-33, 1989.

back to top