Pediatric cancer diagnosis leads to panic, then relief for local family
'Trust your gut,' and head straight to UC Davis Children's Hospital, says local mom
(SACRAMENTO)
The youngest of five children, Emily Love was the life of the party. Even at just 19 months old, she could fill a room with her joyful energy.
Beginning late December 2011, Emily's mom, Christina, noticed changes in her daughter. One day Emily would not want to eat. The next, she'd be asleep when she'd normally be playing. At times, she was inconsolable, not wanting to walk, seemingly in pain.
"To look at her, though, you wouldn't know anything was wrong," said Love. "But I took her to the doctor anyway." Multiple appointments later, there was still no diagnosis.
Symptoms came and went over the course of a month, and at times, Emily seemed her happy self – playing, dancing, singing. Maybe it was allergies, they said. Perhaps she was teething. Maybe it was an ear infection. It would pass.
After yet another doctor's appointment and no answers, Love cried in her car in the parking lot, at a loss for what to do next. She just couldn't shake the feeling that her daughter needed medical attention.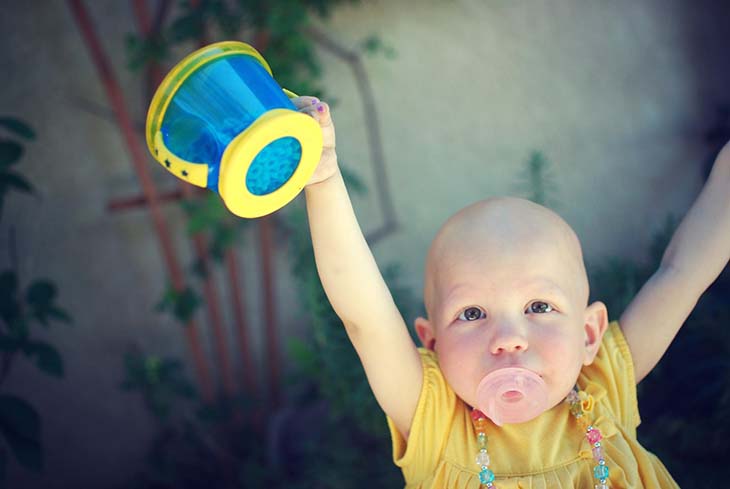 A trip to the ER finally provides answers
On February 8, 2012, Love's own mom convinced her to take Emily to the Pediatric Emergency Room (ER) at UC Davis Children's Hospital. She recalls feeling silly going to the ER.
"I can distinctly remember the cheerful yellow outfit Emily was wearing that day," said Love. "She was laughing and singing, kicking the back of my seat as we were driving. A ray of sunshine. Did I really need to take her to the ER?"
It turns out, she did. As different doctors came in and out of the room and Love repeated the story, it became clear her gut had been right. Something was wrong. As Love shared Emily's symptoms, the ER team conducted X-rays and lab tests. Then, a doctor and nurse came into the room and closed the door. Love and her mom were asked to sit down.
"The doctor put her hand on my shoulder and said, 'Emily's lab work is abnormal,'" said Love. "She said, 'We think she has leukemia.' I let out a gasp."
Acute lymphoblastic leukemia (ALL) is a type of cancer in which the bone marrow makes too many lymphocytes (a type of white blood cell). Leukemia may affect red blood cells, white blood cells and platelets. That was the case with Emily.
She was admitted to the Pediatric and Cardiac Intensive Care Unit . The Love's two-year cancer journey began with a month-long stay in the hospital.
Treatment takes a turn
When she was able go home, Emily's chemotherapy continued. The Loves' hope began to return. Then, they got more unexpected news. Emily wasn't responding to treatment.
"I was told that 90% of kids did well with the treatment protocol," said Love. "Emily just wasn't one of them."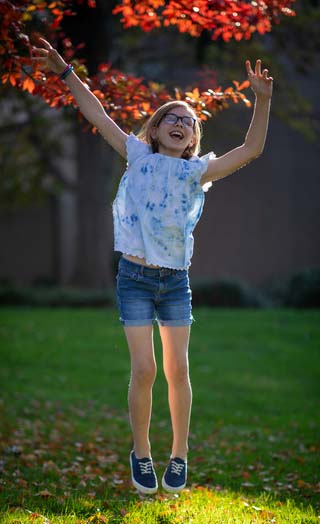 Thanks to the UC Davis Comprehensive Cancer Center's pediatric oncology program, patients like Emily have access to an extensive range of new therapies. What did that mean to the Love family? Doctors had other avenues to try and save Emily's life. And they found one that worked.
After two years of treatment at UC Davis Comprehensive Cancer Center, the Loves celebrated Emily's last day of chemotherapy in July of 2014. She felt like they were among family.
From the Children's Surgery Center and oncology teams, to Child Life and Creative Arts Therapy, the continuity of care at UC Davis Children's Hospital was phenomenal," Love said.
Now almost 12, Emily is a bright, spunky girl with a passion for drama. She still "sees the sunshine through the rain" and her mom knows that the decision to take Emily to UC Davis Children's Hospital ER that day was a life changer.
"You are your child's best advocate, so trust your gut," Love said, "and then go to UC Davis Children's Hospital. The care team was always 10 steps ahead of us, collaborating at every turn. They are simply amazing. They saved Emily's life."
UC Davis Children's Hospital is the Sacramento region's only nationally ranked, comprehensive hospital providing care for infants, children, adolescents and young adults with primary, subspecialty and critical care. It includes the Central Valley's only pediatric emergency department and level I pediatric trauma center, which offers the highest level of care for its critically ill patients, as well as a level I children's surgery center. The 129-bed children's hospital includes the state-of-the-art 49-bed neonatal and 24-bed pediatric intensive care and pediatric cardiac intensive care units. For more information, visit children.ucdavis.edu.