Leading the way in advancement of complex spinal surgery for Adults and Children
You can trust that you'll receive only the highest level of care from our team of orthopaedic spine surgeons and specialists at UC Davis Health, who are part of the nationally ranked UC Davis Health Department of Orthopaedic Surgery. At the UC Davis Spine Center we pride ourselves in the delivery of state of the art spinal surgery using advancements in technology and surgical science.
Rooted in the latest medical knowledge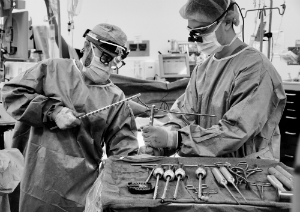 As leaders in our field, all of our attending spine surgeons are members of the Scoliosis research society, the North American Spine Society and other subsections such as the Cervical Spine Research Society.
Dr Eric Klineberg is a leader, author and expert in the treatment of Adult Spinal Deformity. As a member of the International Spine Study Group, Dr. Klineberg is at the cutting edge in research, clinical application of adult spinal deformity correction surgery. Given his knowledge base in this area, Dr. Klineberg lectures nationally and internationally and applies his knowledge base to the treatment of adults with spinal deformity who need of corrective operations.
---
Publications
From routine to complex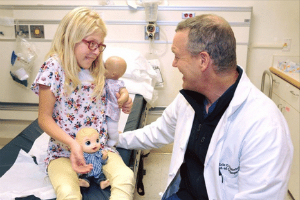 As a group of surgeons who practice at tertiary care referral hospitals, our surgeons treat a variety of conditions including spinal trauma, spinal tumors and spinal infections. As a group, Drs. Javidan, Klineberg and Roberto specialize in the treatment of Spinal Deformity from congenital, acquired, idiopathic and adult onset varieties. We use the latest technologies to ensure patient safety and outcomes including, Surgical simulation, intra-operative neurological monitoring and verification of safety using Intra-Operative CT scanning when necessary.
Minimally Invasive Spine Surgery
Dr. Yashar Javidan has developed a wealth of experience with MIS lumbar spinal fusion, MIS treatment of spinal fractures and with MIS resection of tumors and spinal infection. As a leader in this technical area of spinal surgery, Dr. Javidan mentors other surgeons in this rapidly evolving field of minimally invasive spine surgery.
Commonly treated conditions 
Spinal deformities : Adult or de novo scoliosis, iatrogenic deformities

Spinal cord injury and spinal trauma

Cervical Radiculopathy and Myelopathy causing arm pain and or spinal cord dysfunction ( myelopathy)

Spinal Disorders, Congenital, Juvenile and Adolescent Scoliosis and Kyphosis

Herniated lumbar discs , stress fractures and spondylolisthesis in young athletes
We lead the way in the introduction of motion preserving alternatives for both adults and children. As an example, our surgeons have many years of experience with cervical disc replacements for patients with cervical radiculopathy and have experience with the most effective operations for cervical myelopathy including cervical laminoplasty (motion preserving) and posterior cervical fusion with laminectomy. As surgeons who treat children and adults, we have a unique perspective when treating children and we are able to foresee the challenges that might occur in early and late adulthood.