Treating Sarcoma and other Musculoskeletal Neoplasms
The highest level of care
You can trust that you'll receive only the highest level of care from our team of sarcoma surgeons and specialists at UC Davis Health, who are part of the nationally ranked UC Davis Health Department of Orthopaedic Surgery.
Our orthopaedic musculoskeletal oncology service provides care for primary benign and malignant tumors arising within bone or soft tissues for both children and adults. Our primary focus is in the area of limb salvage for malignant tumors of the extremities. Our musculoskeletal oncology surgeons pursue aggressive treatment of metastatic skeletal lesions to prevent threatened fracture or to stabilize completed fractures. The primary thrust is in the area of limb salvage for malignant tumors of the extremities.
Rooted in the latest medical knowledge
As leaders in our field, our team includes the Past President of the Connective Tissue Oncology Society, Immediate Past President of the Musculoskeletal Tumor Society, and the current President of the Association of Bone and Joints Surgeons. Our team aims to take part in organizations that advance the science of orthopaedic oncology as well as promote high standards of patient care.
Our team has co-authored and authored many publications, exploring important challenges and trends in musculoskeletal oncology.
From routine to complex
We treat a variety of conditions, from soft tissue tumors to rationplasties. We use the latest methods to diagnose and treat cancerous and noncancerous bone and soft tissue tumors. The right treatment starts with the right diagnosis, which is why we use advanced imaging technology to detect and confirm a diagnosis of bone cancer.
Musculoskeletal oncology treatments:
Limb sparing resection of soft tissue sarcomas of the trunk and extremities
Limb sparing resection of bone sarcomas
Reconstruction/limb salvage using endoprosthetic replacements or allografts
Pelvic tumor resections and hemipelvectomy surgery with complex reconstructions including with 3D printed, custom internal prosthetics
Excision benign soft tissue and bone tumors
Reconstruction of bone with bone graft or bone substitute
Surgical management of metastatic bone disease
About the team
Both Dr. Randall and Dr. Thorpe are board-certified and obtain the Fellow, American College of Surgeons credential. Additionally, they are active members of the Fellows American Academy of Orthopaedic Surgeons. The service is dedicated to the education of UC Davis fellows, orthopaedic residents, medical students and staff members through organized teaching and research.
Chief of Service
Residency Program Director
---
---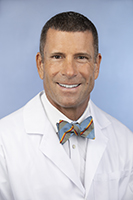 ---
New patients and referring physicians
We are pleased to offer musculoskeletal oncology consultation patient evaluation services at the following location:
Please complete this questionnaire (PDF). You may fill in the form online and print it, OR print the form first and complete it by hand. Please bring it with you to your first appointment with us.
If you're a community physician and wish to refer a patient to us, please use the resources and contact information on our physician referral website.