Center for Voice and Swallowing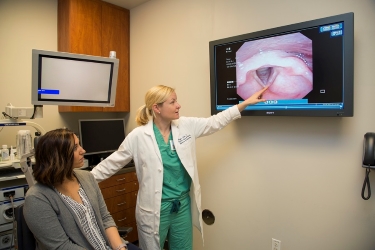 The Center for Voice and Swallowing of the University of California, Davis boasts an esteemed interdisciplinary team that provides specialized care to some of the most challenging voice, swallowing, and airway patients in the world. Common disorders treated at the Center include vocal fold paralysis and paresis, respiratory papilloma, vocal fold dysfunction, laryngopharyngeal reflux (LPR), chronic cough, airway stenosis, and complicated swallowing problems caused by conditions such as stroke, ALS, Zenker's diverticulum, esophageal dysmotility, Parkinson's disease and head and neck cancer. Physicians at the center have pioneered and implemented contemporary and minimally invasive diagnostic and therapeutic procedures, many of which are performed in the office or endoscopy suite without the need for general anesthesia.
Our mission is to provide the world's best care for complex disorders of voice, swallowing, and airway as well as to develop innovative treatments to give hope to patients living with such conditions.
Members of our team include internationally-recognized Otolaryngologists, Speech-Language Pathologists, General Surgeons, nutritionists, specialty nurses, physician assistants and clinical researchers.
Center for Voice and Swallowing Faculty