Pediatric Cochlear Implant Program
The Pediatric Cochlear Implant Program at UC Davis is a multidisciplinary program specializing in the care of infants, children, and teenagers with hearing loss. Our team is comprised of specialists in audiology, otolaryngology (ear, nose, and throat surgery), speech-language pathology, social work, and child development.
Hearing conditions we treat:
Congenital hearing loss – both genetic and acquired
Progressive hearing loss
Inner ear malformations
Hearing loss due to meningitis or other exposures in the environment
Hearing loss associated with other syndromes/conditions
Our team is often involved from the very earliest point of hearing loss identification through the journey of hearing aid fitting to – if determined to be necessary – cochlear implantation and subsequent aural habilitation to ensure the best outcomes for each individual child.
We understand that each child and family has unique challenges they face, and implant surgery is only the beginning of the journey. The evaluation process will likely require multiple tests and visits with a number of professionals. Here are some steps and people you may encounter along the way:
Audiologic Testing
Multiple hearing tests are administered to determine if a child is a candidate for a cochlear implant.
These tests may differ based on your child's age and stage in development, and will be with and without hearing aids. Always bring your child's hearing aids to the appointment.
Medical Evaluation
You and your child will meet with an otolaryngologist (ear, nose, and throat doctor) to determine if other testing or consultation is recommended. You may wish to discuss with relatives beforehand if there is any history of early/childhood hearing loss in the family.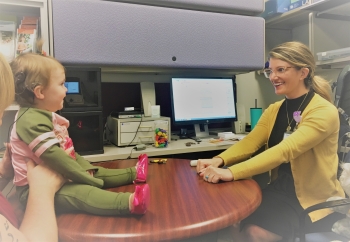 Recommended tests may include:
Genetic testing
Testing for infections
Electrocardiogram (EKG)
Imaging (CT or MRI)
Recommended specialists may include:
Genomic medicine (genetics)
Ophthalmology (eye/vision specialists)
Developmental pediatrician
Recommended preventative measures include:
Up-to-date childhood vaccination schedule
Cochlear implant specific vaccination recommendations (see below)
Speech-Language and Communication Evaluation
Speech, language, and communication can be assessed at any age and will occur during the course of a cochlear implant evaluation.
Psychosocial/Educational Assessment
After evaluations are complete, the team will meet to discuss candidacy for each patient and determine if a cochlear implant is right for your child.
Surgical Consultation
Once a child is determined by the team to be a candidate for cochlear implantation, your otolaryngologist will discuss in detail what to expect with cochlear implant surgery and a device will be selected.
Hearing Aid and Cochlear Implant Programming
Our pediatric audiology team will work with you and your child throughout the evaluation and treatment process to ensure that your child's device programming is individualized to his/her needs . Initial programming may require frequent visits at first, but will later be on an as-needed basis only.
As a comprehensive resource center, services are available to referring physicians and surgeons who may request diagnoses, second opinions, treatment options, and/or a definitive treatment plan.
Outside Physician Referral: (800) 482-3284
Audrey Bracchi, Au.D.


Senior Audiologist


Samantha McKinney, Au.D.


Senior Audiologist

Dave Sheaffer, M.A.


Senior Audiologist
| | | |
| --- | --- | --- |
| Neurotology | Neurotology | Pediatric Otolaryngology |
Monika Steinke, CCC-SLP


Speech Therapy

Susan Ho, L.C.S.W.


Social Work

CDC Cochlear Implant Vaccination Guidelines
Prevnar (PCV13) vaccination recommended for all patients who have or are candidates for cochlear implantation.
Pneumovax (PPSV23) vaccination recommended after the age of 2 who have or are candidates for cochlear implantation.