Childhood cancer survivors paint handprints on car as thank you for help with cancer fight
$100,000 check presented to UC Davis Comprehensive Cancer Center by Hyundai Hope on Wheels
(SACRAMENTO)
Multi-colored painted handprints covered an electric car as an expression of gratitude on Aug. 17 after Hyundai Hope On Wheels rolled on to the UC Davis Health campus to deliver a $100,000 check to help with the cancer fight.
Sharing their appreciation were childhood cancer survivors and their families who made a colorful impression with the "high fives" they planted on a white Hyundai IONIQ5. They also left handprints on the white coat of Marcio Malogolowkin, chief of the Division of Pediatric Oncology-Hematology at UC Davis Comprehensive Cancer Center.
"Here, let me give you a hug," said cancer survivor Jordyn Hernandez as she placed one blue and one red handprint on the back of Malogolowkin, who is also a professor in the Department of Pediatrics. "Thank you for all you do, Dr. Malogolowkin!"
"This is absolutely fantastic, so beautiful," Malogolowkin said. "UC Davis Comprehensive Cancer Center is very happy with our partnership with Hyundai and their support over these years, as we continue our fight against pediatric cancer."
Malogolowkin said over the past decade Hyundai Hope On Wheels has given half a million dollars to pediatric cancer research at UC Davis Comprehensive Cancer Center. Hyundai Hope On Wheels also supports UC Davis' fundraising campaign, "Expect Greater: From UC Davis, for the World," the university's largest philanthropic endeavor to date.
Hyundai has been on a quest to end childhood cancer and has become one of the nation's leading funders of pediatric cancer research, fueling cutting-edge research, igniting public awareness and working together with leading partners nationwide to help create a cancer-free future for kids.
"On behalf of Hyundai Motor America and the Hyundai dealers of Northern California, I thank the brave young children here today to celebrate hope — hope for a cure for cancer," said Michael Orange, general manager, western region at Hyundai Motor America. "Every handprint made today tells a story and shows that it will take many hands working together to cure cancer including doctors, nurses, researchers, communities and corporations like ours."
Hyundai Hope On Wheels got its start in 1998 when a small group of New England-area Hyundai dealers joined together to support a local children's hospital. Today, 830+ Hyundai dealers donate a portion of every vehicle purchase to the cause, paired with support from Hyundai Motor America.
Robots and research
Malogolowkin said the $100,000 check provided this year by Hyundai Hope On Wheels will fund two initiatives.
The first project will use tele-operated collaborative robots to take hospitalized patients on real-time "virtual field trips" at locations such as the California State Railroad Museum, Sacramento Zoo, and the Effie Yeaw Nature Center. The robots can also be used to connect patients with family and friends who are unable to be at the hospital.
Malogolowkin is partnering with Veronica Ahumada, who is director of the Technology and Social Connectedness lab at UC Davis and leading the innovative assistive tech for pediatric cancer patients. Ahumada is assistant professor in the Department of Pediatrics with a cross appointment at MIND Institute and said that it is important to keep young patients engaged in social and learning activities while they are hospitalized.
"Many children experience weeks of hospitalizations due to treatments for cancer and other conditions but are otherwise cognitively able to learn and engage in social experiences. Instead of being restricted to the hospital environment, it is important to provide them with opportunities to learn and remain connected with their families, friends, and communities," Ahumada said.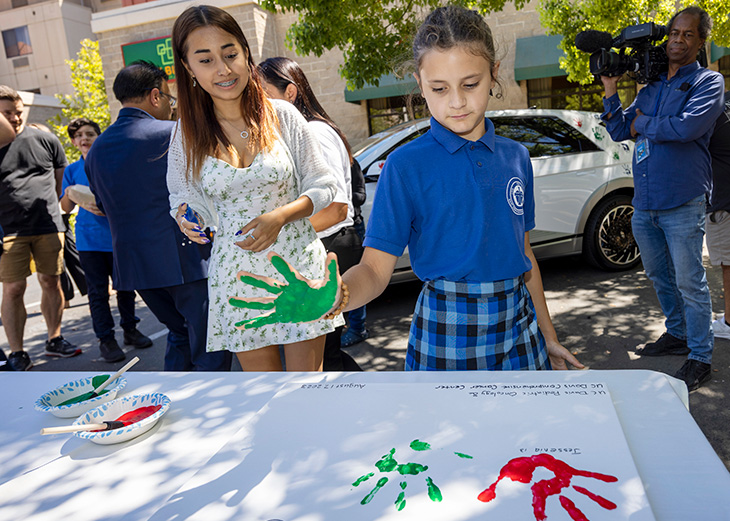 The grant money will also fund research involving rare malignant rhabdoid tumors that can start in the kidneys but also occur in other soft tissues or in the brain.
"These are aggressive pediatric cancers, associated with extremely poor outcomes," Malogolowkin said. "These tumors have been treated with combination of surgery, chemotherapy, stem cell transplant and radiation without much success. Therefore, new treatments are desperately needed."
Malogolowkin is teaming up with UC Davis pediatric clinical scientists Noriko Satake and Reuben Antony to conduct research on a cell process called "RNA splicing" that may be causing mutations associated with both tumor growth and drug resistance related to this type of cancer.
"We hope to test new drugs that may give hope to these pediatric cancer patients," Malogolowkin said.
Many Hyundai dealers in the Sacramento region attended the check presentation and handprint ceremony. After 25 years, Hyundai Hope On Wheels has given $225 million in support of more than 1,300 childhood cancer research grants.
UC Davis Comprehensive Cancer Center
UC Davis Comprehensive Cancer Center is the only National Cancer Institute-designated center serving the Central Valley and inland Northern California, a region of more than 6 million people. Its specialists provide compassionate, comprehensive care for more than 100,000 adults and children every year and access to more than 200 active clinical trials at any given time. Its innovative research program engages more than 240 scientists at UC Davis who work collaboratively to advance discovery of new tools to diagnose and treat cancer. Patients have access to leading-edge care, including immunotherapy and other targeted treatments. Its Office of Community Outreach and Engagement addresses disparities in cancer outcomes across diverse populations, and the cancer center provides comprehensive education and workforce development programs for the next generation of clinicians and scientists. For more information, visit cancer.ucdavis.edu.