Global Mental Health Program
The Global Mental Health Program provides research and educational opportunities for residents, medical students and faculty interested in mental health in international settings.
---
Research
The research component of the program provides opportunities to be involved in aging and dementia-related research projects involving immigrant and refugee populations.
Featured research project:
Advancing Alzheimer's family caregiving interventions and research capacity in Vietnam
The goal of this project is to test a culturally adapted dementia caregiver intervention in Vietnam and to strengthen research capacity through the development of a research network and mentored pilot projects.
Related news story
Helping Alzheimer's family caregivers in Vietnam
Caring for a family member with dementia can be challenging and stressful in the best of circumstances. Imagine what this experience is like for people living with dementia and families in Vietnam and in other lower income countries that don't have community supports and services….
Education
The first year of the educational component includes lectures and hands-on opportunities to work in international or local settings with immigrant and refugee populations. Other program opportunities include:
A global mental health track that provides additional time, support, and mentoring for residents interested in a deeper engagement in the field of global mental health.
A global mental health interest group that meets monthly and is open to residents and faculty.
Each year, the department invites a national leader in global mental health to give grand rounds and to consult with faculty and residents.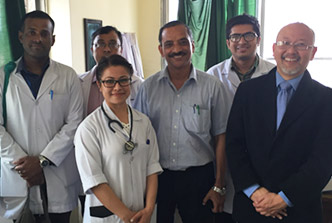 Inaugural trip
Making new connections in Nepal
In May of 2017, Alan Koike, M.D., and Amy Barnhorst, M.D., embarked on their first trip to Nepal. Their journey was part of the Global Mental Health Program's mission to establish educational and research opportunities in mental health in international settings.….