The Super Fritz & Friends Fund supports families of children being treated for cancer at UC Davis Comprehensive Cancer Center. The fund was started in 2019 by Ruth and Paul Flowers after Fritz, the toddler of family friends Anna and Ben Stark, underwent treatment for an aggressive blood cancer.
Fritz Stark, now 9, faced B-cell acute lymphoblastic leukemia when he was about 2 years old. Around the time of his diagnosis, the young boy was given the nickname "Super Fritz" by family and friends because of his can-do spirit and love for superheroes.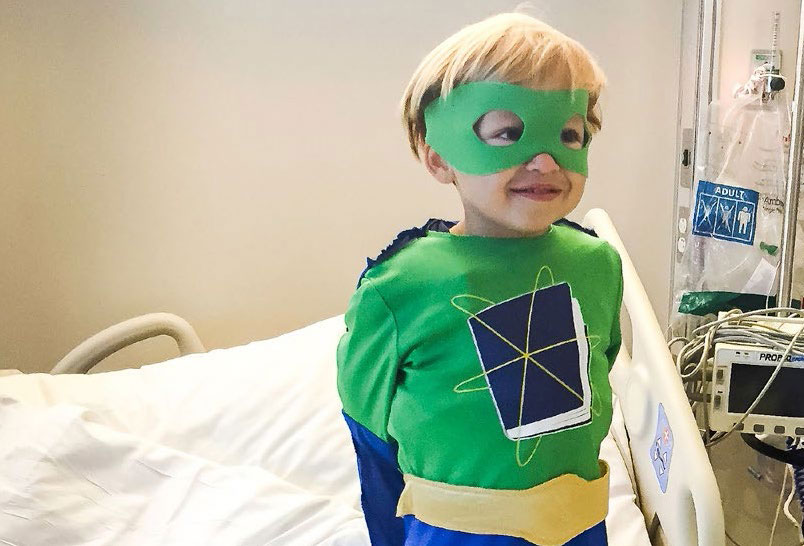 Super Fritz's parents joined the Flowers in supporting the Super Fritz & Friends Fund after their son completed his successful treatment and they watched, in gratitude, as Fritz went on to lead the active, normal life of a high-energy youngster.
"The impact a pediatric cancer diagnosis has on a family is tremendous. The treatment provided by the UC Davis medical team was incredible and in Fritz's case, it saved his life," said Anna. "The beauty in why we established this fund is that our dear friends, Ruth and Paul Flowers, watched us go through this journey and recognized the non-medical struggles that Ben and I were up against. It was the most challenging time of our lives and the stress, worry, loneliness and fear we experienced were devastating. We are honored to work with UC Davis to help families battling pediatric cancer."
The Super Fritz & Friends Fund's main goal is to make life easier on families by connecting them with community resources that can help. As a result of the generosity from the many supporters of the Super Fritz & Friends Fund, a pediatric patient and family navigator position has been established.
"We are overwhelmed with gratitude," said Ruth Flowers. "UC Davis embraced our seed of thought and made it become a reality. Our families, friends and community embraced and supported our mission to provide vital support to families from the time their child is diagnosed with cancer."
Veronica Neri was hired into the navigator position and met with her first patients and their parents in November 2021. Neri is bilingual in Spanish and English, and brings a great deal of knowledge from her experience in a similar position at Shriners Hospital. She works in tandem with the team of licensed clinical social workers to serve cancer center families from diagnosis to survivorship. Neri helps make families feel less alone and better well-equipped to navigate what it means to have a child with cancer and the impact it has on the whole family.
As Neri shares, "I witness how devastating cancer treatment can be for families battling pediatric cancer. When parents endure caring for a child with a life-threatening illness, the day-to-day tasks can appear unmanageable. Families often feel overwhelmed with doing essential needs associated with home, school or work. By providing guidance and help in tackling those challenges, I not only allow the pediatric oncology team to focus on clinical care, but I also give the family the opportunity to be more devoted to their child with cancer. I am honored to be a part of their journey."
Neri helps families by:
Evaluating their needs for lodging assistance (for families traveling more than 35 miles to treatment), insurance coordination, school assistance for both the patient and siblings, and financial assistance for essential needs like groceries and transportation.
Assisting families apply for In Home Support Services (IHHS), Family Medical Leave (FMLA), DMV placards, and financial and supportive resources from community organizations like Make-A-Wish and American Cancer Society.
Ongoing donations can be made to the Super Fritz & Friends Fund, which has already touched the lives of more than 300 families experiencing the challenges of battling pediatric cancer. Donations can be made at give.ucdavis.edu/CCAD/324631.