Alan Gaines did two tours in the Vietnam War as a Navy fighter pilot — so being brave isn't new to him. At 77, he was diagnosed with an aggressive blood cancer. When it failed to respond to treatment and his prognosis didn't look good, he found courage and turned to his faith, as always.
That's when UC Davis oncologist Joseph Tuscano asked if he'd like to try a clinical trial that involved removing cancer-fighting cells from his body and re-training the cells to attack his disease. Essentially, his body's own natural cancer killers, T cells, would be genetically modified to target the cancer.
Gaines' bravery turned to excitement. "I have a degree in engineering, and I know the importance of science," Gaines said. "I told my wife, Ann, 'Let's go for it' because I thought if it doesn't work for me it will help others down the road."
Gaines had a form of lymphoma that was resistant to standard treatment and rapidly fatal without waging a formidable attack. Not only did the CAR T-cell therapy work for Gaines, but as a participant in the clinical trial, the retired commercial airline pilot became a pioneering patient — the first to receive CAR T cells genetically manufactured on-site at UC Davis Health in Sacramento. The development comes as a new study shows that CAR T-cell therapy can cure leukemia.
The CAR T-cell therapy worked potently for Gaines. On a follow-up visit to the UC Davis Comprehensive Cancer Center this past January, Gaines was given the remarkable news that his fast-growing type of non-Hodgkin lymphoma appears to be headed toward complete remission.
"I was so excited to be able to tell Alan and Ann that it worked," said Tuscano, interim director of the UC Davis Stem Cell and Bone Marrow Transplantation Program. "I know how deadly this blood cancer can be, and I want to give him the best chance to be cured. Alan is our first patient to take part in what is expected to be a very successful and robust cellular therapy program."
T-cell manufacturing at UC Davis
Tuscano credits UC Davis Health CEO David Lubarsky with "making the dream a reality" after nearly three years of planning for the launch of the CAR T-cell lab. UC Davis is now among only a few medical centers in California manufacturing CAR T cells on site, and the only University of California campus doing so.
"The results are early, but extremely promising," said Lubarsky. "We are starting our CAR T-cell therapy program with blood cancers, but we anticipate using this revolutionary therapy as a breakthrough treatment for many other diseases in the not-too-distant future."
A gene manufacturing lab in the UC Davis Institute for Regenerative Cures, the Good Manufacturing Practice (GMP) facility, is where production takes place. The T cells removed from patients are transformed in the lab into super cells that target cancer with precision.
"It's like a sci-fi story," said Mehrdad Abedi, an oncologist and professor at UC Davis who is the primary investigator for this trial. "T cells have receptors that are uniquely designed to latch onto cancer cells and then kill them by injecting them with toxins. But sometimes the cancer cells dodge the T cells and that's when the cancer grows. CAR T-cell therapy is often the only hope for patients who are given little to no chance of survival."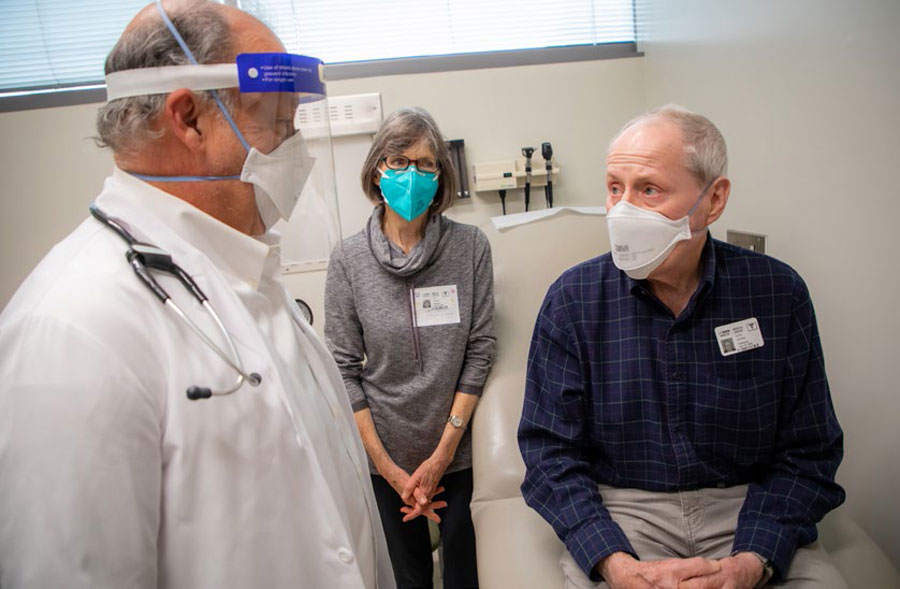 The re-engineering of T cell receptors
Chimeric antigen receptor T-cell therapy works by modifying the receptors of the T cells so they spot specific cancers — even if the crafty cancer cells try to stay hidden. It's considered immunotherapy because it uses the body's own defenses, its immune system, to fight disease.
The U.S. Food and Drug Administration first approved CAR T-cell therapy in 2017.
Rather than contracting with a commercial lab, which returns frozen T cells that require expensive specialized shipping, CAR T cells that can be manufactured on site are key to more efficient and effective CAR T-cell therapy.
Manufacturing the T cells at UC Davis provides a fresh product that will leave the T cells more "persistent and with a better memory of how to go after cancer cells," Abedi said.
"We also think we can reduce the cost of CAR T-cell therapy by manufacturing on site," Abedi continued. "Currently, commercial products can run as high as $500,000 per patient. By local manufacturing and removing the storage and transportation costs, we expect to get the cost down to as low as $50,000 per patient, which makes this product more affordable, even for insurance companies."
Jan Nolta, who directs the Institute for Regenerative Cures, said, "Giving more patients equal access to CAR T-cell therapy is important because we're in the business of saving lives. Cultivating these potent cancer killers in our own lab is opening the doors to innovation. We're already looking at the cancers we want to tackle next, including ovarian, kidney and bladder cancers. As a cancer survivor myself, I am particularly passionate about CAR T-cell therapy."
From bedside to bench and back again
Once they mature and amass into a lean, mean cancer-fighting machine, the CAR T cells are ready to be infused back into the patient. But first the patient goes through what's called "lymphodepleting conditioning," a type of chemotherapy that makes more room for the CAR T cells to expand as they conquer and destroy cancer cells.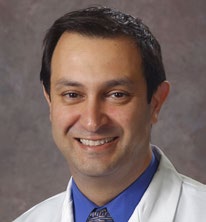 "Our Phase I trial at UC Davis allows us to get more innovative about how we do CAR T-cell therapy. For example, because we can transform the T cells on site, we have better control over the quality of the product," said Abedi. "We feel this is the best way to ensure the CAR T cells continue to grow, over the lifetime of the patient, providing a constant army of re-engineered T cells ready to attack any cancer cells that show up."
In addition to providing access to all patients, the clinical trial is examining the precise dose of conditioning treatment before infusion of the cells. The goal is to determine the best way to ready the patients' immune system for the new and improved T cells.
"The CAR T cells can persist long after the patient enters remission," said Abedi. "We think the conditioning prior to the re-infusion can improve the persistence of the cells in the body. That's another reason why this Phase I clinical trial is so important."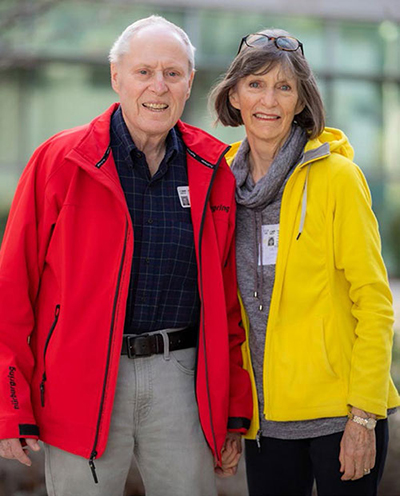 Careful monitoring required
CAR T-cell therapy is highly effective but comes with the risk of serious side effects. As the CAR T cells multiply in the body, they can release chemicals called cytokines into the blood, which can cause the immune system to go awry. That's why the treatment should be given only at a medical center that is specially trained in its use and why patients need to be monitored closely.
Patients stay at the hospital for at least a week after receiving treatment. For another month after leaving the hospital, patients need to stay near the medical facility for frequent follow-up appointments.
"We took advantage of the lodging accommodations on the UC Davis campus since we live in the Sierra foothills," Alan Gaines said. Ann was by his side during the entire process. Married more than 50 years, they used the time together in between follow-up visits to plan for what they want to do next in their lives.
"The staff here at UC Davis is so caring and so positive," Ann said. "We feel so confident now with Alan's treatment behind us that we are looking ahead to hiking, biking, camping this summer and a possible cross-country trip in our travel trailer to visit our children and grandchildren."
Her husband agreed, "I feel terrific. I'm here and I feel great," Alan said. "Fortunately, the only side effect for me was tiredness and a mild rash. Dr. Tuscano is a terrific supporter with a wonderful personality and a way of making sure we were well informed every step of the way. I'm feeling very positive about the future."
---
UC Davis staff working "behind the scenes" to launch the CAR T-cell therapy program
Naseem Esteghamat, hematologist oncologist
Grace Chan, stem cell transplant nurse coordinator, Bone Marrow Transplant Program
Gerhard Bauer, director of the GMP Facility
Brian Fury, manager of manufacturing, GMP Facility
Dane Coleal, manufacturing supervisor, GMP Facility
Jeannine White, advanced cell therapy project manager
Jordan Pavlic, cell manufacturer, GMP Facility
Geralyn Moser Annett, director, Alpha Stem Cell Clinic
Trisha Yassear, Alpha Clinic operations manager
Erika Crawford, lead senior certified clinical research coordinator, Alpha Clinic
Nataly Magner, cell and gene therapy specialist, Alpha Clinic
Karen O'Donnell, cell and gene therapy specialist, Alpha Clinic
Ashley Ramsay, cell and gene therapy specialist, Alpha Clinic
Dara Feleciano, clinical research nurse, Alpha Clinic