This issue of Synthesis brings hope — for patients, clinicians and researchers alike — as UC Davis Comprehensive Cancer Center continues to advance groundbreaking therapies that offer people with cancer a new lease on life when standard treatments fail them.
Molecularly targeted medicines as well as immunotherapy that taps the body's own cancer-fighting responses are giving patients back what they thought would be impossible: a reasonably normal life.
However, we have a responsibility to ensure that everyone has an equal opportunity to access such innovative care.
It starts with a commitment to ensure that the cancer burden does not weigh more heavily on certain populations than on others. As we innovate in cancer care through research, we need to drive a culture change that rectifies disparities in cancer screening, diagnosis, treatment, and outcomes. In this issue of Synthesis, you will learn about our inaugural Center for Advancing Cancer Health Equity and our new chief diversity officer, who oversees programs to optimize health equity and patient access throughout the very large and diverse catchment area we serve. As an example of how we are equalizing cancer care, our new program to deploy "promotores" in underrepresented neighborhoods is helping women gain access to breast cancer screenings and treatment. We are also finding new opportunities to create bidirectional conversations with the community to allow cancer researchers an opportunity to get feedback from many other stakeholders.
We also have exciting news to share in this issue about UC Davis Comprehensive Cancer Center becoming the first in the region to develop genetically modified cancer-fighting cells that are manufactured on-site. Read about the first patient to receive these highly innovative engineered CAR T cells that are trained to find and destroy cancer cells.
We're also first in the region to launch a targeted liver cancer treatment program in which a pump is implanted under the skin to directly destroy tumors. We are excited to report that the first patient to undergo the procedure has been declared cancer free. Read about what we're doing to treat advanced malignant melanoma and gain inspiration from one woman's determination to prevent a recurrence of this otherwise deadly skin cancer.
Kids with cancer might seem to possess superpowers as they get through it all — but we know the realities of what it is truly like, and our new pediatric patient and family navigator is busy helping young patients and their parents navigate the twists and turns of treatment. Support from generous donors have made this navigation program possible.
You will also learn in this issue the many ways in which our researchers are studying the unique psychological impacts of cancer treatment on adolescents and young adults, and what we can do to help this age group.
Finally, get ready to be motivated by one young cancer patient, hospitalized during his early childhood and again as a teenager, as he invites you to join him in creating hope for a future that will be less traumatic on other young cancer patients. We hope you enjoy this issue of Synthesis, and we thank you for your dedication and continued support for the important work being done here. Your support not only sustains our mission but also accelerates the impact we are making in the lives of people with cancer – or at risk of developing cancer - in our region and beyond.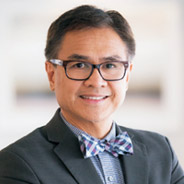 Primo "Lucky" Lara, Jr., M.D.
Director, UC Davis Comprehensive Cancer Center