Abdelhadi's study was published online Jan. 10 in the American Cancer Society journal Cancer. The findings illuminate the need for psychological care interventions for short- and long-term AYA cancer survivors. The study is the first to put a price tag on the phenomenon.
Abdelhadi and her team found that cancer survivors diagnosed with the disease at 15 to 39 years of age are twice as likely as people without a history of cancer to experience:
depression
anxiety
panic attacks
posttraumatic stress disorder
worry
anger or other forms of psychological distress
The psychological distress was also found to be high many years after the diagnosis.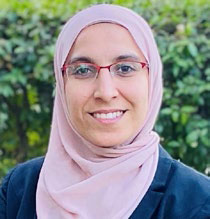 "The results show there is an economic cost to the psychological impact of cancer on young people," said Abdelhadi.
"My hope is that the research will help inform the care that is given during and after cancer treatment so that these young people feel supported as they face their futures."
Abdelhadi said psychological counseling provided early during their survivorship care plan may help AYA patients recover from cancer and, ultimately, lower overall medical expenses.
The researchers determined that medical expenses associated with psychological distress averaged $2,600 more for AYA cancer survivors than for adults without a history of cancer. No prior studies have evaluated the additional medical expenses and health care utilization associated with psychological distress in these survivors.
Abdelhadi collaborated on the study with several UC Davis Health researchers. They included Bradley H. Pollock, professor and Rolkin chair in the Department of Public Health Sciences, Jill G. Joseph, professor emeritus at the Betty Irene Moore School of Nursing, and Theresa Keegan, a professor of medicine in the Departments of Internal Medicine and Public Health Sciences. Keegan specializes in cancer epidemiology in adolescents and young adults.
The faculty members working with Abdelhadi on the study are part of the Population Sciences and Health Disparities Program of the UC Davis Comprehensive Cancer Center. Pollock and Keegan are integral leaders in AYA oncology research efforts that include training young investigators such as Abdelhadi.
Abdelhadi is a past junior investigator presentation winner at the cancer center's annual Spotlight on Early Career Investigators. Her presentation focused on research on chronic conditions in AYA cancer patients.
Global study shows need for changes in cancer care for teens and young adults
While cancer survival rates have improved for pediatric patients and adults over the age of 40, outcomes for certain types of cancer have lagged among the age groups in between. That includes what is known as adolescent and young adult (AYA) cancer patients. In fact, cancer remains a leading cause of non-accidental deaths among 15- to 39-year-olds.
Pediatric oncologist Elysia Alvarez is advocating for changes in how cancer care is provided for this age group after leading a study that looked at the global burden of cancer on AYAs. The research was published recently in the prestigious medical journal The Lancet Oncology.
Alvarez, a UC Davis assistant professor of clinical pediatrics, was lead author of the global study involving 730 collaborating scholars. She said approaches to clinical care often fail to acknowledge the unique physical and emotional needs of people in this age group who are engaged in transition from childhood to adulthood. With respect to cancer diagnosis treatment and research, AYAs are figuratively drifting on an ice floe between the pediatric and adult domains.
The study found that adolescents and young adults not only develop certain cancers that are common among children but also some types of cancers more typical among adults. In addition, AYAs are more susceptible than younger or older individuals to specific types of cancers, including Hodgkin's lymphoma and testicular tumors. As a result, adolescent and young adult cancer patients may have difficulty finding care that is optimal for their cancer type and their age-related treatment and support needs.
The report noted that cancer treatment teams often are not well resourced to help these patients manage the psychosocial problems they may experience in response to a diagnosis of cancer. The authors wrote: "The age range of adolescents and young adults encompasses their formative years in life, and spans the time from completing education, to possibly starting a career and raising children, and potentially contributing to society more broadly. A cancer diagnosis during these years can have a considerable impact on individuals' future life trajectory through major stressors, including feelings of isolation, anxiety and depression, concerns about infertility, discontinuing schooling or work, and financial hardship."