One of the first patients in the region to undergo a targeted cancer therapy directed at the liver through a pump implanted under the skin has been declared cancer-free. UC Davis Comprehensive Cancer Center is the first medical facility in Northern California, including the Bay Area, to start what is called a hepatic artery infusion program.
Peter Romero, 63, said the procedure was a "real game changer," and remarkably, he was able to keep exercising through the duration of his therapy. He walked up to eight miles a day and rode a bicycle during the entire three months of treatment.
Hepatic artery infusion delivers chemotherapy directly to the liver through a pump the size of a hockey puck. The pump is implanted under the skin between the ribs and the pelvis. It is connected by a small catheter to the circulatory system that feeds the hepatic artery supplying blood to the liver. A powerful chemotherapy drug is deposited into the pump and refilled every couple of weeks.
For patients with metastatic colon cancer that has spread to the liver, hepatic artery infusion can be transformative. It was for Romero, who said, "If the amount of chemotherapy that went directly into my liver was given to me through a port and into my whole body, it would have killed me. Instead, the pump fed targeted chemotherapy straight into my liver, destroying those stubborn cancer cells."
Romero, who works in the agriculture industry, was diagnosed with colon cancer in 2018. He immediately underwent surgery and received standard chemotherapy at a local hospital near his home in Monterey. Traditional chemotherapy is given intravenously, which dilutes it as it enters the body systemically.
In 2019, CT scans showed that Romero's colon cancer was gone, but spots had materialized on his liver — indicating that the cancer had metastasized or spread. He underwent surgery at Stanford Health Care to remove the liver tumors, but three months later scans revealed more spots on his liver. Genetic tests revealed that Romero had an overexpression of the HER2 gene, normally associated with breast cancer. The gene also shows up in 2–6% of patients with colorectal cancer.
Romero endured another round of chemotherapy, this time in pill form, as well as targeted therapy against HER2, but the spots remained on his liver. That's when his surgeon at Stanford, in conjunction with his oncologist in Monterey, went through the process of connecting him with Sepideh Gholami at UC Davis Comprehensive Cancer Center.
"She is in your backyard and this might be the right approach for you," Romero said about his doctor's strong recommendation. Romero had the surgery to install the pump in July 2020. He and his wife drove the three hours to UC Davis Comprehensive Cancer Center for treatment every two weeks. During this time, he and his wife decided to move to Scottsdale, Arizona. However, they continued to fly to Sacramento every two weeks, despite the pandemic, to have his pump refilled, alternating with standard chemotherapy.
Gholami is one of the nation's few oncology surgeons performing hepatic artery infusions, even though the technique was developed several decades ago. The institution with the most experience in the highly skilled procedure is Memorial Sloan Kettering Cancer Center in New York, which is where Gholami practiced after getting her medical degree and completing her residency at Stanford. She obtained two fellowships at Memorial Sloan Kettering in complex and general surgical oncology, as well as hepatopancreatobiliary surgery (involving the liver, pancreas, gallbladder and bile ducts).
"An estimated half of patients with colorectal cancer will eventually develop colorectal liver metastases. Only a minority of patients are eligible for liver surgery, and 75% of these patients will still experience a recurrence of their disease despite traditional chemotherapy," Gholami said. "That's why I wanted to start a hepatic artery infusion program at UC Davis Comprehensive Cancer Center. I wanted to give patients like Peter another chance to thrive."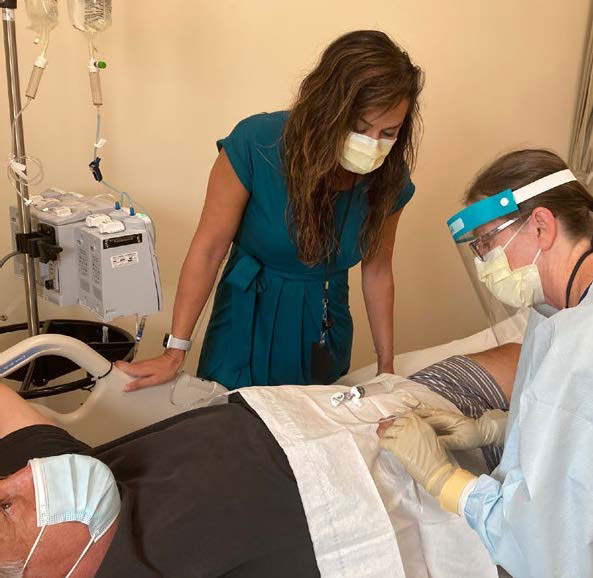 Hepatic artery infusion involves the continuous flow of floxuridine, a chemotherapy drug classified as an "antimetabolite" that destroys cancer cells by tricking them into thinking it is one of their genetic building blocks: RNA and DNA. Once the cells absorb the drug, they can no longer divide into more cells. Because antimetabolites target cells as they are multiplying, they are good at killing tumors that are growing quickly.
UC Davis infusion nurse Deborah Small traveled to Memorial Sloan Kettering to receive training, and Gholami said she has been instrumental in the success of the hepatic artery infusion program launch.
"The pump delivers chemotherapy right into the liver without negatively impacting the rest of the body," Small said. "It is a very rewarding experience to work with these patients who are able to go on with many of their normal activities while being given a chance at fully recovering from difficult cancers that used to give families little hope for their loved ones."
Last November, Romero got the news he was waiting the past couple of years to hear when his oncologist in Arizona said, "Your scans are clean. Your cancer is gone." "Marsha, my wife of 37 years, and my three children have heard me say this: 'I love my doctor,'" Romero said of Gholami. "She not only provided for my physical care, but my mental care as well. Dr. Gholami is a special person, and now we are close friends. She was one of the first to see a photo of my first grandchild, and she never hesitates to answer my texts."
Gholami has implanted several more cancer patients with the pumps this year and is hopeful that they, too, will have outstanding results like Romero's. "Peter has a passion for life, and I am so glad that he took that important step to call us so we could do all we could to help him fight his cancer," Gholami said. "Patients like him give us the motivation to continue to leverage every available avenue to save lives."