Tushir-Singh and The Singh Lab conduct research using protein engineering to generate multi-targeting antibodies and conjugates (anti-cancer agents linked together) as potential cancer therapeutics. Before joining UVA, Tushir-Singh held senior and principal scientist positions at biopharmaceutical company AbbVie Inc. and Boehringer-Ingelheim Pharmaceuticals.
He has worked closely with clinical antibodies and antibody conjugates in drug discovery settings, bringing distinctive and rare expertise to harvest the vast potential of protein therapeutics.
When the COVID-19 pandemic hit, Tushir-Singh began thinking of a unique antibody design that might work to limit the spread of the coronavirus. What resulted was a study involving a novel approach that interferes with a critical cell mechanism to reduce transmission of the virus that causes COVID-19. Tushir-Singh said he is highly excited about new possibilities and collaborations, and is ready to contribute to the growth of research activities in the cancer center's Cancer Therapeutic Program.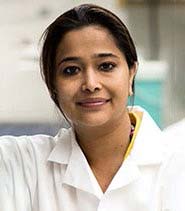 The Bhatnagar Lab team studies epigenetic mechanisms controlling mammalian gene expression and examines how these mechanisms are deployed during development. The lab utilizes various genetic, biochemical and genomic experimental approaches. The Bhatnagar Lab has made important discoveries that have significantly contributed to the understanding of gene regulation and revealed novel strategies to treat breast cancer and childhood neurodevelopmental disabilities.
The research couple met in their native India and came to the U.S. to obtain their graduate degrees at the University of Notre Dame. Bhatnagar and Tushir-Singh have two sons, Abhay Singh (9) and Arjun Singh (15). The family enjoys traveling to new places, but often returns to their favorite destination: Disney World.