Once they mature and amass into a lean, mean cancer-fighting machine, the CAR T cells are ready to be infused back into the patient. But first the patient goes through what's called "lymphodepleting conditioning," a type of chemotherapy that makes more room for the CAR T cells to expand as they conquer and destroy cancer cells.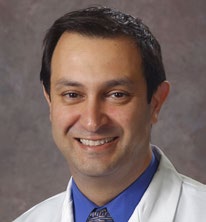 "Our Phase I trial at UC Davis allows us to get more innovative about how we do CAR T-cell therapy. For example, because we can transform the T cells on site, we have better control over the quality of the product," said Abedi. "We feel this is the best way to ensure the CAR T cells continue to grow, over the lifetime of the patient, providing a constant army of re-engineered T cells ready to attack any cancer cells that show up."
In addition to providing access to all patients, the clinical trial is examining the precise dose of conditioning treatment before infusion of the cells. The goal is to determine the best way to ready the patients' immune system for the new and improved T cells.
"The CAR T cells can persist long after the patient enters remission," said Abedi. "We think the conditioning prior to the re-infusion can improve the persistence of the cells in the body. That's another reason why this Phase I clinical trial is so important."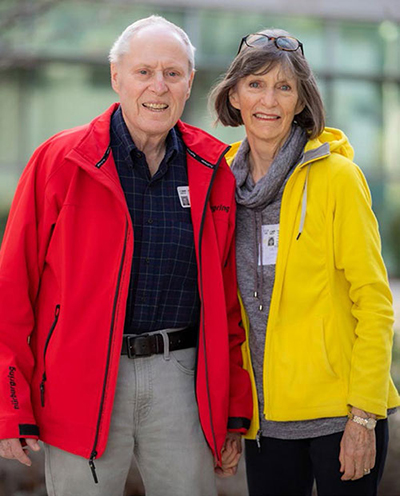 Careful monitoring required
CAR T-cell therapy is highly effective but comes with the risk of serious side effects. As the CAR T cells multiply in the body, they can release chemicals called cytokines into the blood, which can cause the immune system to go awry. That's why the treatment should be given only at a medical center that is specially trained in its use and why patients need to be monitored closely.
Patients stay at the hospital for at least a week after receiving treatment. For another month after leaving the hospital, patients need to stay near the medical facility for frequent follow-up appointments.
"We took advantage of the lodging accommodations on the UC Davis campus since we live in the Sierra foothills," Alan Gaines said. Ann was by his side during the entire process. Married more than 50 years, they used the time together in between follow-up visits to plan for what they want to do next in their lives.
"The staff here at UC Davis is so caring and so positive," Ann said. "We feel so confident now with Alan's treatment behind us that we are looking ahead to hiking, biking, camping this summer and a possible cross-country trip in our travel trailer to visit our children and grandchildren."
Her husband agreed, "I feel terrific. I'm here and I feel great," Alan said. "Fortunately, the only side effect for me was tiredness and a mild rash. Dr. Tuscano is a terrific supporter with a wonderful personality and a way of making sure we were well informed every step of the way. I'm feeling very positive about the future."
---
UC Davis staff working "behind the scenes" to launch the CAR T-cell therapy program
Naseem Esteghamat, hematologist oncologist
Grace Chan, stem cell transplant nurse coordinator, Bone Marrow Transplant Program
Gerhard Bauer, director of the GMP Facility
Brian Fury, manager of manufacturing, GMP Facility
Dane Coleal, manufacturing supervisor, GMP Facility
Jeannine White, advanced cell therapy project manager
Jordan Pavlic, cell manufacturer, GMP Facility
Geralyn Moser Annett, director, Alpha Stem Cell Clinic
Trisha Yassear, Alpha Clinic operations manager
Erika Crawford, lead senior certified clinical research coordinator, Alpha Clinic
Nataly Magner, cell and gene therapy specialist, Alpha Clinic
Karen O'Donnell, cell and gene therapy specialist, Alpha Clinic
Ashley Ramsay, cell and gene therapy specialist, Alpha Clinic
Dara Feleciano, clinical research nurse, Alpha Clinic