$6 million U.S. Department of Labor grant awarded to UC Davis nursing school
Funding supports program to grow diversity in nursing faculty and instructors
(SACRAMENTO)
As Americans age and more nurses retire, the need to educate and train new registered nurses (R.N.s) has never been greater. This is especially true in underserved areas. Adding to the challenge, of the more than 3 million R.N.s in the workforce, only 3% work in educational settings and less than 1% in academic arenas.
Some undergraduate nursing programs are even turning away students due to a lack of nursing faculty. But the Betty Irene Moore School of Nursing at UC Davis is working to change that. With a new five-year, nearly $6 million grant from the U.S Department of Labor's Nursing Expansion Grant Program, the school aims to improve diversity in the health care workforce. This will allow the school to prepare new nursing faculty and address the health equity gap in America's underserved communities.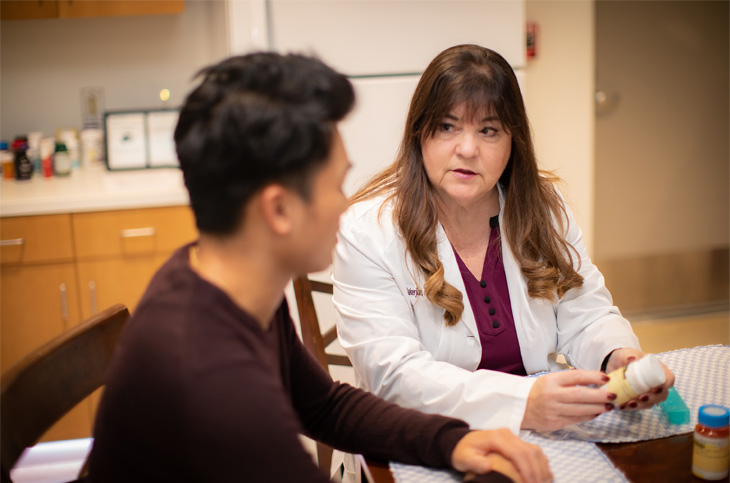 "We have a huge deficit of faculty in Northern California and rural areas in particular," explained Deb Bakerjian, interim associate dean for practice and principal investigator on the grant. "In addition, an advanced degree in nursing doesn't necessarily teach us to be good educators. This grant means in five years, we'll have more faculty who are stronger and better prepared and who will then turn around to educate and train nurses to work in their region to ultimately improve patient outcomes."
Mentors to guide
The Residency in Education, Teaching and Instruction in Nursing program will develop diverse graduates for employment as post-secondary nursing instructors and teachers in two ways. The first is a 12-month term where nurses serve as nurse faculty residents, spending half of their time pursuing a graduate degree and the other half co-teaching with a mentor and completing a graduate academic certificate in education.
"While the nurse faculty residents are working on either a master's in nursing degree or a Ph.D. (Doctor of Philosophy) or D.N.P. (Doctor of Nursing Practice), they will be partnered with a mentor to learn the skills they need for teaching. These include writing learning objectives, designing interactive coursework and learning how to write test questions," Bakerjian explained.
In addition to the nurse faculty residents, 48 nurses will take part in a 6-month mentored clinical instructor internship and complete portions of the graduate academic certificate. This gives them the theory and techniques they need to know about how to be a good clinical instructor for future R.N.s.
"The fact that our team was awarded the largest grant in the nation is a testament to our vision and ability to fill a critical need," said Dean Stephen Cavanagh. "This grant aligns with both the school's core attributes of community connection and collaboration. It's also part of our strategic plan's goals to strengthen community engagement and advance diversity in the workforce to improve health."
Partnerships focus on underserved
According to the California Department of Health and Human Services, 16 of the 33 Northern California counties are designated RN shortage areas (RNSA). The areas are determined based on population-to-nurse ratio, access to care and workforce projections. Recruiting for the residents and instructors in the program will be focused on these shortage areas to expand enrollment and increase the availability of nurse faculty.
As the School of Nursing is rooted in community-based solutions, this program relies on collaboration with academic, employer, nurse professional and workforce development organizations. These include HealthImpact, California's Nursing Workforce Center and the California Organization of Associate Degree Nurses. Regional partners in the grant include academic sites of California State University campuses in Sacramento and Sonoma, Cal Poly Humboldt, American River College, Sacramento City College, as well as UCSF.
"We need to collaborate because we're all under the same stress for finding faculty," explained Tanya Altmann, department chair of Sac State's School of Nursing. "We can together solve the nursing faculty shortage by putting emphasis on the need to actually do education training for future faculty without that education background."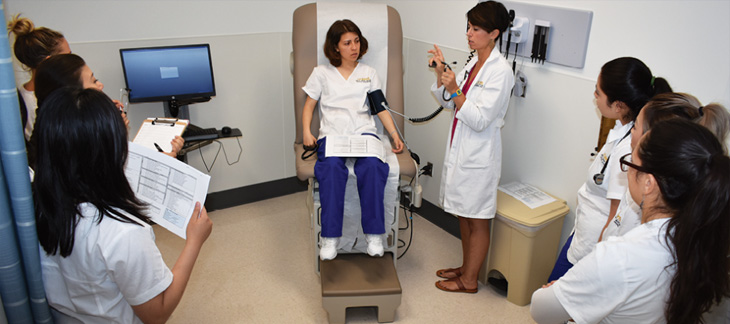 In rural Humboldt County, Humboldt State closed its Bachelor of Science in Nursing (BSN) program in 2011. Today, Cal Poly Humboldt provides an RN to BSN program and looks to partner further with College of the Redwoods. Nursing leaders say all will benefit from this grant.
"We need to build our faculty infrastructure here," said Kimberly Perris, director of the nursing program at Cal Poly Humboldt. "Our nursing students are invested in our community. It's critical to get outside perspective to bring back to the rural areas."
Nursing organizations, such as the Capitol City Black Nurses Association and the National Association of Hispanic Nurses (NAHN), Sacramento will also be key partners in reaching out to nurses who qualify for the program. Sandra Calderon serves as the local NAHN president. A graduate of the School of Nursing's nurse practitioner degree program, she is now in her second year of the school's Ph.D. program researching how to increase diversity in nursing education.
"If you want to increase diversity of students, you have to have faculty that mirrors the students that they are teaching," Calderon argued. "As a future researcher and a chapter president, I encourage current nurses to think about what it looks like to become nursing faculty. It's not difficult for me to get them to look at this great opportunity with UC Davis to become nursing faculty."
Bakerjian added: "We know our school of nursing faculty and students will gain from this collaboration in the same way all the other partners will gain. When we put our heads together, we get a better experience and outcome."
This grant means in five years, we'll have more faculty who are stronger and better prepared and who will then turnaround to educate and train nurses to work in their region to ultimately improve patient outcomes.
Diverse clinicians equal healthier people
What underlies the efforts in diversifying the nursing workforce is the belief that increased diversity will lead to decreased health disparities among racial and ethnic minority populations. A goal of the government's Nursing Expansion Grant Program is to ensure people from historically marginalized and underrepresented communities have pathways to good jobs and careers in nursing. The UC Davis team believes its program can both increase diversity in nursing faculty and improve outcomes for patients.
"Research shows that when people of color are matched with a nurse or provider from their same background and culture, their experience of healthcare is better," Bakerjian said. "Ultimately, we want to match the diversity of our faculty to the populations in our Northern California catchment area."