Cancer center partners with oncologists in the Philippines on latest treatments
(SACRAMENTO)
UC Davis Comprehensive Cancer Center leaders traveled to Makati City in the Philippines this month to take part in a postgraduate course in oncology jointly organized by the cancer center and Makati Medical Center.
The two-day conference, "Leveraging the Multidisciplinary Treatment Approach in Cancer Care," included more than two dozen workshop sessions and panel discussions. This was the second postgraduate course held at Makati Medical Center. The first was in 2019, prior to the COVID-19 pandemic.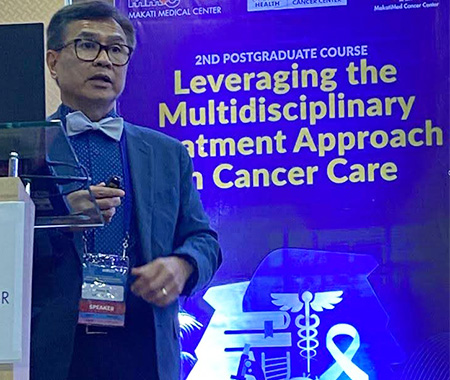 The symposium was established after the cancer center signed a memorandum of understanding with Makati Medical Center, creating a partnership to collaborate on cancer care and research and provide educational opportunities for physicians and staff.
Speakers included UC Davis Comprehensive Cancer Center Director Physician-in-Chief Richard Bold and Associate Director for Clinical Research Megan Daly. Other cancer center leaders who attended the event included Chief Administrative Officer Gina Dayton and Executive Director of UC Davis Health Service Lines, the Cancer Care Network and Regional Affiliates Kristin Mensonides.
"The collaboration between our cancer center and Makati Medical Center brings together the many talents and passions of local and international physicians and researchers who are devoted to solving the problem of cancer across the entire spectrum, from prevention to survivorship, worldwide," Lara said. "As we continue to develop our global oncology partnership, we will advance our unique second opinion program at UC Davis Comprehensive Cancer Center, creating innovative new training initiatives in oncology."
Lara said that the event educated participants on leading-edge treatments for cancer with a focus on precision oncology that uses a personalized multidisciplinary team approach to cancer care.
"The topic of leveraging the multidisciplinary approach in treating cancer patients will certainly provide significant value to all participants on how to improve the treatment and care to patients," said Pilar Nenuca P. Almira, President and CEO of Makati Medical Center, who added that she is grateful to UC Davis Comprehensive Cancer Center for the professional partnership.
Eventually, the two institutions hope to develop an international cancer care network that leads to clinical trial collaboration and cancer research opportunities.
UC Davis Comprehensive Cancer Center
UC Davis Comprehensive Cancer Center is the only National Cancer Institute-designated center serving the Central Valley and inland Northern California, a region of more than 6 million people. Its specialists provide compassionate, comprehensive care for more than 100,000 adults and children every year and access to more than 200 active clinical trials at any given time. Its innovative research program engages more than 240 scientists at UC Davis who work collaboratively to advance discovery of new tools to diagnose and treat cancer. Patients have access to leading-edge care, including immunotherapy and other targeted treatments. Its Office of Community Outreach and Engagement addresses disparities in cancer outcomes across diverse populations, and the cancer center provides comprehensive education and workforce development programs for the next generation of clinicians and scientists. For more information, visit cancer.ucdavis.edu.