Grey and White Matters support group offers traumatic brain injury patients hope, support
(SACRAMENTO)
When Greg Spies went for a bike ride in November 2017, he didn't expect to end up in the hospital with a traumatic brain injury (TBI).
"I was riding my mountain bike and was hit by a semi-truck," said Spies, 58, a Yuba City resident. He suffered major injuries, was in a coma for two weeks and spent more than 15 months at the UC Davis Medical Center, including two months in the Intensive Care Unit.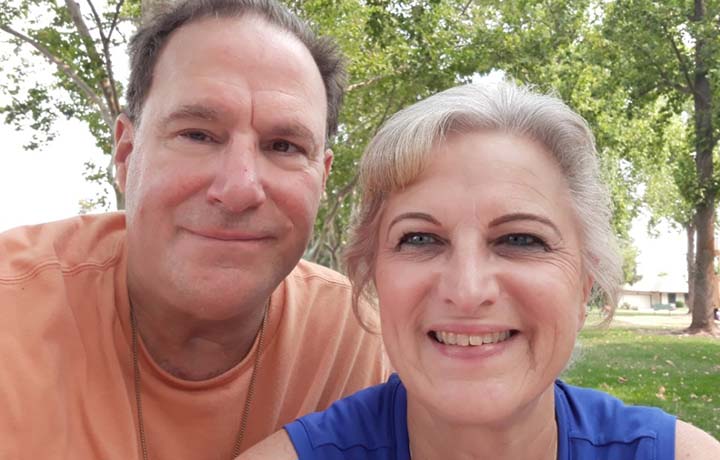 "His prognosis wasn't good," said Debbie Watkins, Spies' significant other. "When he was in the hospital, we weren't sure if he would recover. So many amazing doctors and teams took care of him, and a nurse told me about the traumatic brain injury support group. I had a lot of questions and it sounded like something that would help."
The group, called Grey and White Matters, gives TBI survivors, their caregivers and family members support after being discharged from the hospital. It was started in 2012 by Kiarash Shahlaie, director of the UC Davis TBI Program and professor of neurological surgery and neurology. The group is facilitated by Kristin Hackman and Denise Kendrix, speech pathologists in the Department of Physical Medicine and Rehabilitation.
"We provide a safe place, additional resources and education," Hackman said. "When patients are in the hospital they receive general recommendations, but they don't know exactly what they'll need when returning home. We provide additional information during the next level of recovery."
The group meets monthly and attendees range in age from school-age children to adults aged 60 and older. In addition to providing emotional support, the group features guests, including physical therapists, yoga instructors, legal experts on workplace issues and neuropsychiatrists who offer meditation, relaxation and stress management strategies.
"We have patients with varying levels of recovery," Kendrix said. "Some patients have recovered completely, and some are still going through the process. Having people share their experience is very meaningful. It's valuable to hear from someone who has been there and gone through it."
A lifeline during recovery and beyond
Watkins started attending Grey and White Matters meetings in January 2018, while Spies was still receiving care in the hospital. After a long recovery, he was discharged in February 2019 and started attending meetings a few months later.
"Going to the meetings has been a lifeline for me," Watkins said. "It's nice being among people who are going through the same thing. It's a safe place and I feel like I can be transparent. I can share my emotions and others understand what I'm feeling."
Hackman emphasized the important role the support group can play for caregivers. "Family members have lots of feelings, and this validates that they're not alone," she said. "We also share the changes that TBI survivors go through during recovery."
Since returning home, Spies has made an amazing recovery.
When I go to meetings I no longer feel alone with my injury. They're compassionate, kind and have courage. I want to inspire everyone who's had a TBI to go to a support group meeting."
"It's a miracle -- Greg has an incredible story and he's overcome so many obstacles," Watkins said. "He has no memory loss. We've learned that it takes a long time to heal, so be patient and celebrate the little milestones."
Spies does puzzles and plays games every day to help keep his mind sharp. He also maintains a positive outlook on life.
"This has taught me to slow down, enjoy life and smell the flowers," he said. "I look at life now as we are all miracles."
Watkins and Spies say the support group has been invaluable, and they plan to continue attending meetings.
"When I go to meetings I no longer feel alone with my injury," Spies said. "They're compassionate, kind and have courage. I want to inspire everyone who's had a TBI to go to a support group meeting."
Grey and White Matters meets in person on the second Tuesday of each month at 6 p.m. For more information contact greyandwhitematters@yahoo.com.