Safe Kids Greater Sacramento at UC Davis Health honored with national award
(SACRAMENTO)
Safe Kids Worldwide recently honored Safe Kids Greater Sacramento at UC Davis Health with the Herta Feely Communications and Advocacy Award for outstanding work in communications, awareness and advocacy.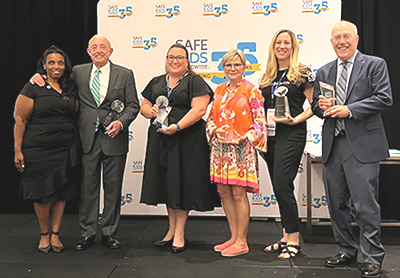 The award was one of 16 Safe Kids Awards presented at the Safe Kids Childhood Injury Prevention Convention (PrevCon). The event is a three-day gathering of more than 500 safety professionals who come together to network, learn and collaborate on efforts to enhance children's safety.
"I was honored to accept this award on behalf of our Safe Kids Greater Sacramento members, its advisory board, and the staff here at UC Davis Children's Hospital," said Jennifer Rubin, Safe Kids Greater Sacramento coalition coordinator. "Injury prevention initiatives like ours can go unnoticed because the best outcome of our work is nothing! No injuries, no school days missed, and no bad news to share. Communicating safety messages to families in a way that inspires them to follow our safety advice is hard work, and we appreciate the recognition."
Every two years at PrevCon, Safe Kids Worldwide honors members of the child injury prevention community for their commitment to keeping kids safe.
About Safe Kids
Safe Kids Worldwide is a nonprofit organization working to protect kids from preventable injuries, the number one cause of death for children in the United States. Safe Kids works with an extensive network of more than 400 coalitions in the U.S. and with partners in more than 30 countries to reduce traffic injuries, drownings, falls, burns, poisonings, and more. Safe Kids also engages in advocacy efforts to make kids safer at the federal, state, and local levels. Since 1988, Safe Kids has worked with partners to help reduce the U.S. childhood death rate from unintentional injury by nearly 60 percent. Safe Kids Greater Sacramento was founded at UC Davis Health in 1998. Learn more at safekids.org.
Related links