'There's no safe amount of time for a child to be left in a car'
5 life-saving tips to keep your child safe from fatal heatstroke
(SACRAMENTO)
As the temperature warms up, remember that it is never safe for a child or pet to be left alone in a car – even if the windows are rolled down.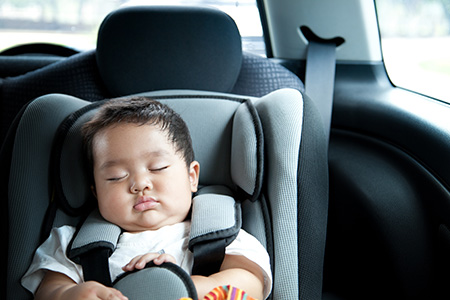 In the past five years, 189 children have died from heat stroke in a car in the United States, according to the National Highway Traffic Safety Administration. These cases happen when kids are left unattended in a car – either they are mistakenly forgotten, or the child gets into an unlocked car without the parent knowing.
"A child's body temperature can rise five times faster than an adult," said Jennifer Rubin, Safe Kids Greater Sacramento coalition coordinator and injury prevention specialist at UC Davis Health. "Even if the outside temperature is relatively low, the vehicle's interior temperature can rise very quickly."
Experts recommend parents follow these tips:
Look before you lock. Check the backseat every time you park your car, even if you think you are childless.
Keep something you need in the backseat. Put your purse, cell phone, shoes, or anything essential for your day, in the backseat.
Always lock the doors and put the keys away. This helps prevent kids from playing with keys or getting into the car without parents' knowledge.
Have a plan with your child care provider. If your child does not show up at daycare or school without prior notice, someone should call you.
If you see something, say something. If you see a child alone in a car, call 9-1-1 immediately.
"There's no safe amount of time for a child to be left in a car," Rubin said.