Study shows 1 in 5 former smokers may be overlooked for cessation counseling
(SACRAMENTO)
A new UC Davis study published in the Journal of General Internal Medicine shows some people may be overlooked for tobacco cessation counseling, putting them at risk for lung cancer. The study attributes the finding to the way health care providers are asking some people about their current tobacco use.
The research was conducted by three UC Davis Comprehensive Cancer Center population health scientists. They found that if people are asked during lung cancer screenings "Do you now smoke cigarettes?" and they answer, "not at all," they might be classified as former smokers when, in actuality, they used tobacco recently.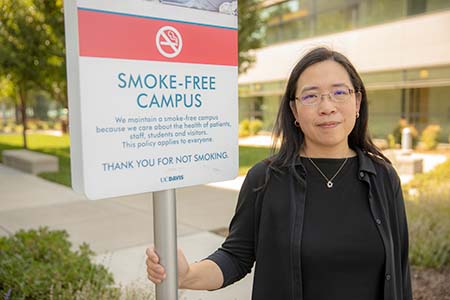 "Unfortunately, this screening approach can lead to misclassifying 1 in 5 former smokers eligible for lung cancer screening who may be current tobacco users," said senior author of the study Elisa Tong. "That means nearly 1.5 million Americans may have a missed opportunity for tobacco cessation counseling during lung cancer screening."
The cross-sectional study used 2013-2018 National Health and Nutrition Examination Survey data to examine predictors of tobacco use and exposure among self-reported former smokers. The study determined that asking about "tobacco use in the past five days" or measuring cotinine (a biomarker of nicotine reflecting the past few days' exposure) would help identify current smokers better. Researcher found these would also help identify passive smokers who are nonsmokers exposed to secondhand smoke.
"Our study found that people misclassified as 'former smokers' used a variety of tobacco products in the past week with about a third each using cigarettes, e-cigarettes, or other tobacco products such as pipes, cigars, or smokeless tobacco," said co-author Melanie S. Dove. "Certain groups had higher percentages of tobacco use by self-report or cotinine levels, including men, those who quit within the past three years, and those living with a household smoker.'"
Understanding former smoker behavior is important because they may relapse, and it can take smokers multiple attempts to quit for good. The study also found that former smokers who did not recently use tobacco products had twice the rate of secondhand exposure than the general population.
"The U.S. Surgeon General has concluded there is no risk-free level of smoke exposure, and eliminating secondhand smoke is critical for preventing lung cancer and other diseases," co-author Eve Angeline Hood-Medland said. Hood-Medland started the research study as a postdoctoral fellow at UC Davis and was previously an internal medicine resident and chief resident at the UC Davis School of Medicine.
The nationally representative study underscored the need for continued counseling among former smokers about recent tobacco use and exposure and consideration of cotinine testing.
Along with asking former smokers about their last tobacco use, the study recommends asking patients about type of tobacco product they've used, if there are others in the household who smoke and whether there is indoor exposure (i.e., at work). Health care providers can encourage those living with household smokers to establish a smoke-free home rule or refer to free telephone counseling with a quitline.
Lung cancer screening has been shown to save lives and is covered by Medicare. Current and former smokers are now eligible for lung cancer screening if they are 50-80 years old, have a 20 pack-year smoking history and quit within the past 15 years. Pack-years are calculated by multiplying the number of cigarette packs (number of cigarettes smoked per day, divided by 20 cigarettes per pack) by the number of years smoked.
Resources to help smokers quit are available through UC Davis cessation classes and individual counseling, in partnership with the UC Davis Comprehensive Cancer Center's Stop Tobacco Program (SToP). UC Davis and SToP also partner with the state quitline, Kick It California.
Authors Hood-Medland and Dove were supported by the Health Resources and Services Administration (Grant No. T32HP30037) through the Quality, Safety, and Comparative Effectiveness Research Training in Primary Care program. Hood-Medland was also supported by National Institutes of Health (Grant No. ULITR001860). Tong was supported by the Tobacco-Related Disease Research Program (Grant No. 28CP-0039), National Cancer Institute (Grant No. P30CA 093373-15S) and the UC Davis Health System.
UC Davis Comprehensive Cancer Center
UC Davis Comprehensive Cancer Center is the only National Cancer Institute-designated center serving the Central Valley and inland Northern California, a region of more than 6 million people. Its specialists provide compassionate, comprehensive care for more than 100,000 adults and children every year and access to more than 200 active clinical trials at any given time. Its innovative research program engages more than 240 scientists at UC Davis who work collaboratively to advance discovery of new tools to diagnose and treat cancer. Patients have access to leading-edge care, including immunotherapy and other targeted treatments. Its Office of Community Outreach and Engagement addresses disparities in cancer outcomes across diverse populations, and the cancer center provides comprehensive education and workforce development programs for the next generation of clinicians and scientists. For more information, visit cancer.ucdavis.edu.