Firefighters Burn Institute marks 50 years of service
Team behind UC Davis Health burn center unveils new museum exhibit
(SACRAMENTO)
Each year, an estimated 7 to 12 million people worldwide sustain burn injuries that require medical care. That trauma can lead to long recovery, absence from work, school, or even death.
Amid those dark statistics is a bright spot in Sacramento: The Firefighters Burn Institute, which celebrates its 50th anniversary in 2023. To mark the occasion, the organization unveiled a permanent memorial display at the Sacramento Regional Fire Museum on Jan. 22.
"It's our history. It's how we, as a community in Sacramento, knew we could do better and what we have tried to continue to do," said Joe Pick, institute director.
The institute was created after a September 1972 crash that left 22 people dead and 25 in need of specialized treatment for their traumatic burn injuries. From the ashes of the wreckage came a dedicated center for burn treatment at UC Davis Health, transforming the regional response to burn care.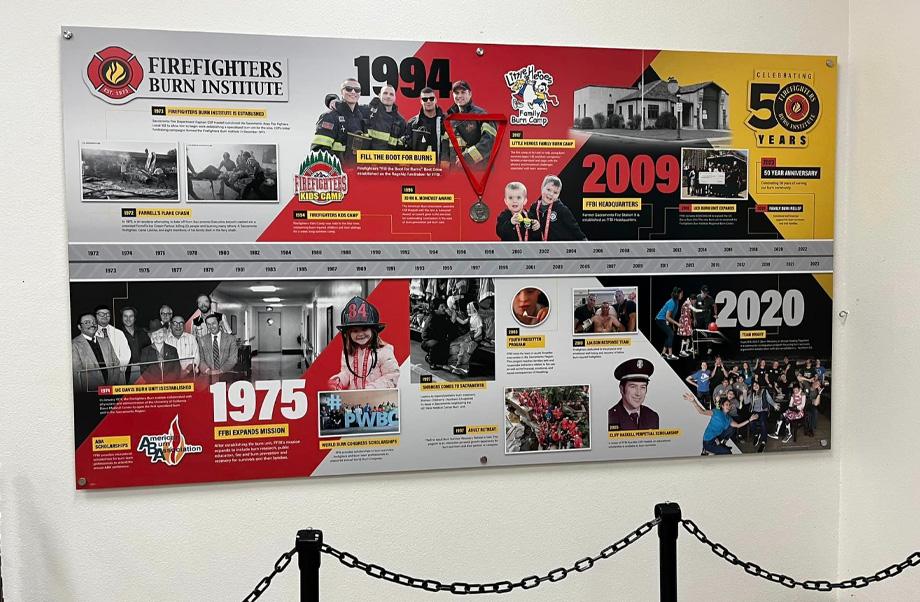 A special ceremony featured a color guard and a half-hour documentary presentation on the history of the crash. During the event, Pick and fellow members of the institute recounted where they were on that fateful day and the lessons that guided their action afterwards.
"It was in the aftermath that a firefighter knew we could do better than this," Pick said.
"We could do better"
That firefighter was Sacramento Fire Capt. Cliff Haskell. After losing a colleague in the Farrell's Ice Cream Parlour wreckage, he set out to change the future of burn care in Sacramento. He encouraged the Firefighters Local 522 union to raise funds. It ultimately collected $1 million and established the Firefighters Burn Institute Regional Burn Center at UC Davis Medical Center.
Photos and details of Haskell's determination and the milestones over the next 50 years now adorn the permanent exhibit. The timeline recounts the realization of his dream. It spans the tragedy and the burn center opening to the addition of Shriners Children's Northern California in 1997 and the creation of camps and resources for burn survivors and their families.
"This timeline shows it all. His goal was to get a burn unit. Cliff had no idea the number of programs we would have," Pick explained.
A national leader
UC Davis Health Chief Burn Surgeon Tina Palmieri joined a panel during the event to discuss advances across the years.
"Over the last 50 years, the Burn Center has progressed from providing care to being a leader in burn care and determining the standard of care in burns nationally and internationally through research and advocacy," Palmieri said. "We hope to continue our leadership and further develop patient-centered research designed to improve quality of life after burn injury."
In 2021, the team received re-verification as an Adult Burn Center from the American Burn Association (ABA) for meeting the highest standards of care for burn-injured patients. But it's the individual stories of resilience that drive team members every day.
"Burn injuries happen quickly but take a long time to heal," Palmieri explained. "It is our job to go beyond survival and help our patients have the best quality of life possible. Even patients with massive burns can have meaningful, happy lives and be productive members of society. We want to make a difference in the lives of burn survivors."
The next 50 years
Fortunately for survivors and their families, UC Davis Health and the Firefighters Burn Institute provide valuable services to assist in the healing process. Governed by the Local 522, the institute hosts Firefighters Kids Camp each summer, and also offers the Youth Firesetter Program for parents and troubled adolescents, as well as scholarships for burn survivors. Additionally the Liaison Response Team for injured firefighters supports the health care professionals who care for them.
Now, leaders look to the next 50 years of service, focused on increasing mental health resources in the future. Pick as he's come to know more survivors, he's seen how much those are needed.
We've been able to just scratch the surface. I know we can do more."
"It's the teenager who wonders if anyone will find them attractive, to people who have lost limbs who wonder how they can move forward with their lives," he said. "We've been able to just scratch the surface. I know we can do more."
Pick and his team have begun work with clinical psychologists and the social work department at Sacramento State University. They hope that their expertise, coupled with funds raised through donors and the popular Fill the Boot for Burns campaign, can create a mental health program with lasting benefits.
"Every step you make opens the door for something else to get done," he reiterated. "That's what we've done for 50 years and want to continue doing it."