Fiery crash 50 years ago spurs today's world-class burn care
Farrell's Ice Cream Parlour tragedy leads to Firefighters Burn Institute Regional Burn Center at UC Davis Health
(SACRAMENTO)
September 24 marks a dark day for Sacramento. It was 50 years ago that 22 people died — 12 of them children — when a jet taking off from Sacramento Executive Airport overran the runway and slammed into Farrell's Ice Cream Parlour.
Witness accounts indicate about 100 people were inside the popular eatery when the inexperienced pilot who had participated in the Golden West Sport Aviation Show changed their lives forever. Twenty-five people were injured, many with serious burns.
Margie Smith, who lived nearby with her husband and three young children remembers that Sunday like it was yesterday.
"Our neighbor's daughter told us about the crash. But that's all we knew," she recalled. "It wasn't until the next morning that we learned how close to home it hit."
Smith's neighbors ­— Warren, Sandy, Jennifer and Brandon Krier — all died while celebrating Warren's birthday at Farrell's. Brandon was two years old, only a few weeks younger than Smith's son, Brian, at the time.
"I distinctly remember watching the news. They carried out a stretcher that was covered, but the outline of a very small child's body could be seen through that cover. I often wonder if it was Brandon," Smith tearfully recounted.
Larry Hopkins, now 80 years old, was a Sacramento City firefighter with nine years under his belt. Though off duty, he witnessed several emergency vehicles heading toward Freeport Boulevard. He followed, saw the flames and rushed to help.
"It was utter devastation. I wasn't a newbie. I was used to that kind of stuff. But this was pushing the envelope as far as a disaster at that time," he said. "There's nothing good to be said about any of it."
But something good ultimately resulted from that day. The crash altered the future of burn care for the Sacramento region and beyond.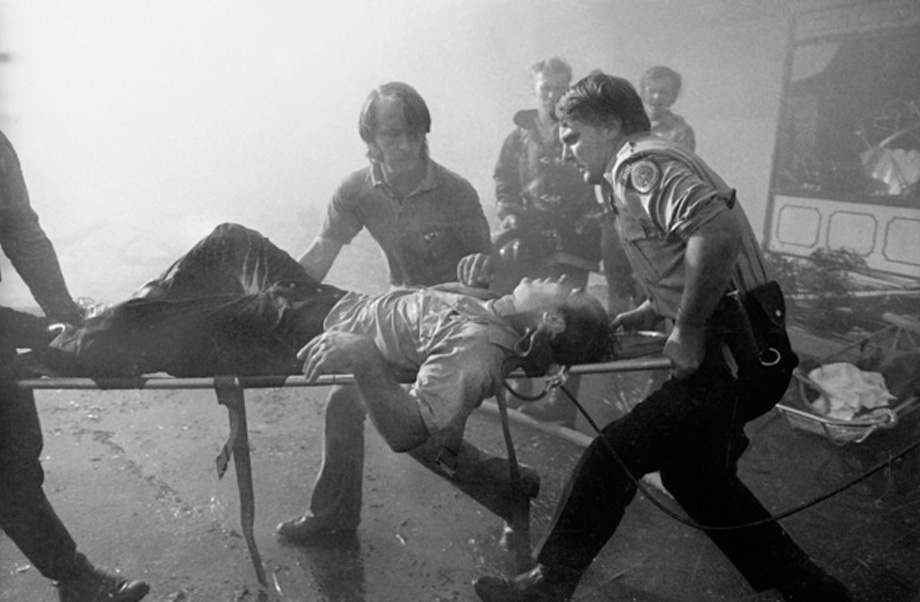 A fallen colleague sparks a quest for better care
Firefighter Gene LeVine was off duty that day, dining inside Farrell's with his family. LaVine perished along with eight relatives.
Sacramento Fire Capt. Cliff Haskell was on duty downtown. It wasn't until later that he would learn his friend and colleague had died in the blaze. He was distraught by the tragedy. Once the ashes cooled, Haskell realized that specialized burn care was lacking in Sacramento.
Fresh off a fire safety conference in Louisiana, Haskell returned to Sacramento with one goal: to establish a world-class burn unit in Sacramento. By December 1973, he helped create the Firefighters Pacific Burn Institute, now called the Firefighters Burn Institute. A month later the burn unit opened at Sacramento Medical Center, known today as UC Davis Medical Center.
"In the aftermath of the fire, people learned that survivors were backed up in the hallways of the medical center because there was no resource to handle an event like that," said Joe Pick, current executive director of the Firefighters Burn Institute. "I don't think anyone realized our lack of good access to burn care until after that happened."
I don't think anyone realized our lack of good access to burn care until after that happened.
"We could do better"
A consultant hired by the Sacramento firefighters agreed. According to reports from May 1973, R.A. Kolvoord, director of the Southern Burn Institute in Louisiana said there was "no doubt about the need for a burn treatment center" in the region. At the time, the only treatment center for burn patients was at UCLA, with a smaller unit at UCSF.
"Cliff knew we could do better. He wanted an organized structure. So, he went to the Firefighters Local 522 union to establish an organization to raise the money to create one," Pick said.
"Cliff had a passion that just wouldn't end," Hopkins added.
Haskell and the team were so devoted to creating a place for specialized burn care that they set up a fund in memory of LaVine. They worked with community leaders, physicians and leadership at UC Davis Health. More than $1 million was raised to open the Firefighters Burn Institute Regional Burn Center at UC Davis Medical Center.
The center is located on the second floor of the hospital on the UC Davis Health campus. Specialists treat victims of highway crashes and wildland fires who sometimes arrive by helicopter.
Children's specialized needs usher in pediatric burn program
But all burn patients are not alike. For children, multiple complications can arise from the immune and metabolic changes that result from a severe burn.
For many of the 25 survivors of the Farrell's crash, especially the burn victims, the specialized care they so greatly needed did not exist. Back then, adults who suffered severe burns would rehabilitate in two to three years. But for children, it could take up to 20 years.
Fortunately, specialized pediatric burn care became a reality in Sacramento, right across the street from UC Davis Medical Center.
"The collaborative commitment to a comprehensive burn program provided an ideal framework for leaders of Shriners Children's to establish a multidisciplinary specialty pediatric health care facility that focused on burns as one of the main service lines," said Alan Anderson, director of development for Shriners Children's Northern California. "When we opened our doors in 1997, we featured a first-of-its-kind pediatric burn program led by David Greenhalgh."
Greenhalgh, a renowned burn surgeon, was recruited to lead the burn programs at both Shriners Children's and UC Davis Health.
"It was a lot more work than I thought it would be. We had to earn the respect of the community and the doctors and the families," recalled Greenhalgh, who retired from UC Davis Health earlier this year. "Some people were concerned we'd take away from UC Davis by having Shriners Children's locally, but the opposite happened. We focused on providing the best care and by doing so were able to grow both."
"Never gave up"
Sept. 24, 1972, brought unspeakable tragedy to Sacramento. After 22 people died from the horrific airplane crash, there was wide consensus among community, fire and health care leaders that the status quo in burn care had to change.
"That has to be what we take from it — that many, many, many lives have been saved because of the burn center," Smith said.
Lives saved because of Haskell's vision.
"In the fire service, you do what you can with the resources you have and always wish you had more," Pick said. "Cliff never gave up. He knew we could do a lot more."