UC Davis Medical Center earns recognition as age-friendly health care provider
(SACRAMENTO)
UC Davis Medical Center has been awarded an Age-Friendly Health Systems Committed to Care Excellence designation. The recognition comes from the Institute for Healthcare Improvement.
The medical center has also earned membership in Nurses Improving Care for Healthsystem Elders (NICHE), at the Senior Friendly level of designation. NICHE's goal is to enhance nurses' knowledge and skills to improve health outcomes for older adults.
"Our medical center joins the Emergency Department (ED) and the Healthy Aging Clinic in earning national recognition for our age-friendly commitment to older adult care," said CEO David Lubarsky. "We are coordinating our care across settings, while making sure our patients and their families' personal needs, values and preferences are met."
Considering what patients want is critical. Just ask 68-year-old Melvin Kato.
'It felt like a conversation.'
Since being diagnosed with Acute Myeloid Leukemia, a type of cancer that starts in the bone marrow, in 2019, Kota has been in and out of UC Davis Medical Center roughly 10 times. After a stem cell transplant in 2022, complications forced a two-week stay last December.
"I felt like I got a lot of respect. The nurses were concerned how I was feeling," Kato said. "It felt like a conversation."
That experience contrasts with an incident in another area hospital ED. Clinicians insisted on treating him for pneumonia, which he was adamant he did not have. He tried repeatedly to share his history and explain the X-rays, but "They would not listen," he said. "It was very frustrating."
Focusing on what matters to patients is one of the four focus areas of the Age-Friendly program. The others are mobility, medication and mentation (mental sharpness), often referred to as 4M.
"Knowing what matters should color all the decisions we make collaboratively with patients and their families," explained Anna Satake, a geriatric clinical nurse specialist and NICHE coordinator. "We're giving them the freedom to have conversations and teaching both sides to have a language."
Knowing what matters should color all the decisions we make collaboratively with patients and their families.
Geriatric focus gains momentum
Satake led the Age-Friendly and NICHE Senior Friendly designation efforts at the medical center. The education and geriatric resource training program required by NICHE complemented the 4M implementation in day-to-day activities. There are currently 45 geriatric resource nurses across 16 units with a push to eventually have one in every adult unit.
"The principles of the 4Ms were being done. We needed to collect data on our mobility, mention and medication efforts then define what does 'what matters' mean to us," she said.
In order to focus on what matters to patients, floor nurses are encouraged to use the patient white boards to write the specific daily goals. The geriatric resource nurses are trained on bedside assessments for older adults which help focus on high-risk geriatric syndromes to improve patient outcomes. Research shows that adapting protocols and implementing evidence-based practices improve health outcomes for older adults.
These also contribute to the system's Healthy Aging Initiative to create the healthiest and highest-functioning older adult population in Northern California through care, research and innovation at UC Davis Health.
"What's great is that UC Davis Health has dedicated the resources to have our geriatric nurses trained, so they can problem solve," Satake said. "It has started a fire of engagement and they are initiating projects to implement change."
Too many falls spark much needed dialogue
One such project is in the Oncology/Blood and Marrow Transplant unit. The team documented a lot of falls, likely associated with patients whose strength is compromised as a result of their treatment. The data showed that 53% of patients with Acute Myeloid Leukemia fell in 2021; five of those 17 people were 65 and older.
"We were asking 'Why is this population encountering more falls?'" recalled Sunitha Sunkara, a geriatric resource nurse on the unit.
Sunkara said they determined a likely cause was that while side effects such as nausea, diarrhea and low blood counts are often discussed, those such as weakness and fatigue are not. Those can lead to falls.
"These people are independent and have nothing to hinder their functionality before the cancer. They don't think of themselves as weak or frail," Sunkara explained.
Using the 4M model, the team developed patient education and talking points focused on specific needs such as medication side effects, mobility limitations, and what was most important to the patient. Sankara said those conversations led to only one person over 65 falling in 2022.
"They get it when you sit and talk with them," she said.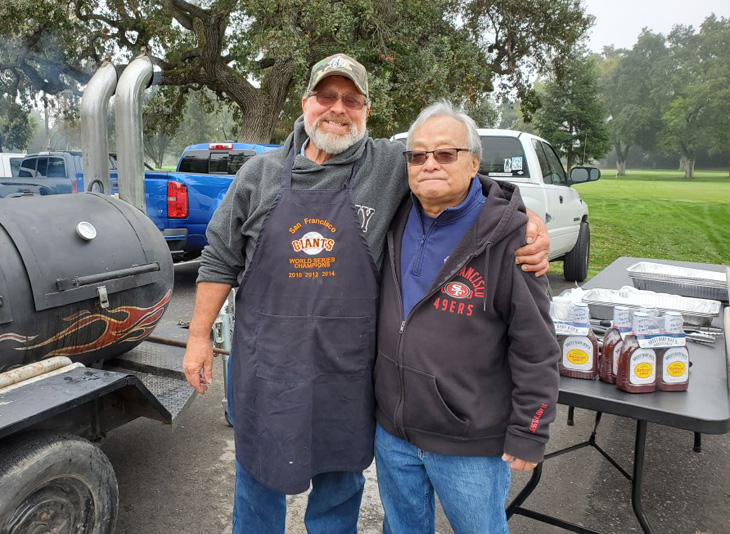 Golf in the future
Melvin Kato certainly got it. Now in remission, he discussed the future he wants during his most recent visit to UC Davis Medical Center.
"They would ask me when I get better, what did I want to do. I'm not a good golfer but I love to golf. I want to go out and golf and go bowling and fishing," he said.
These age-friendly efforts change how nurses and patients talk with each other. The approach is also spreading to all members of the health care team in hopes of serving the fastest-growing population better.
"Working toward these designations and membership taught front-line nurses how to think about patient care differently in their daily lives," Satake said. "It planted that seed that has now changed conversations with physicians, pharmacists and others. We have shifted the conversation for change."