Ribbon-cutting and dedication mark milestone for Ernest E. Tschannen Eye Institute Building
New facility on UC Davis Health campus in Sacramento set to open in December
(SACRAMENTO)
Around 200 physicians, staff, family members, and friends of the UC Davis Eye Center were on hand Saturday, Sept. 17, to celebrate the ribbon-cutting and dedication of the Ernest E. Tschannen Eye Institute Building. The morning event was also live-streamed for supporters unable to attend the ceremony in person. The striking four-story structure on the UC Davis Sacramento campus is set to open in early December. Photos from the event can be seen here.
Mark Mannis, the Fosse Endowed Chair in Vision Science Research and professor and chair of the Department of Ophthalmology, gave the welcoming remarks. He noted that some attendees had come from as far away as Peru.
"After decades of dreaming of a state-of-the-art institute that would be the focus of leading-edge care and creative vision science for the region and the nation, we stand before this magnificent structure — the Ernest E. Tschannen Eye Institute Building," Mannis said.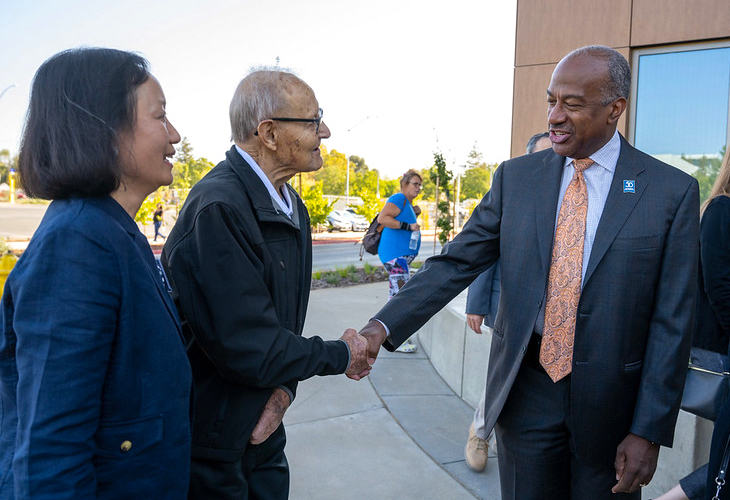 UC Davis Chancellor Gary S. May thanked Ernest E. Tschannen and the 850 additional donors who helped make the building possible. "We are deeply grateful for your support. On behalf of the entire university, thank you."
Vice Chancellor of Human Health Sciences and CEO for UC Davis Health David Lubarsky was also one of the morning's speakers. "Going forward, the Eye Center will continue to transform vision care in the region and beyond by developing cures and groundbreaking care for patients with eye disorders," Lubarsky said.
The ceremony emphasized the teamwork and dedication of all those involved in creating the state-of-the-art eye institute building.
"This leading-edge facility will enhance our faculty's ability to care for patients, lead groundbreaking clinical trials and recruit and train the next generation of ophthalmologists," said Susan Murin, interim dean of the UC Davis School of Medicine.
Additional speakers included Vice Chancellor for Development and Alumni Relations Shaun Keister and video messages from University of California President Michael Drake and Stephen McLeod, CEO of the American Academy of Ophthalmology. Lance Durfee from Vanir Construction Management, Inc. and Jeffrey Dill from McCarthy Builders, Inc. also gave remarks.
Tschannen immigrated to U.S. in 1950s
The guest of honor, Ernest E. Tschannen (pronounced "Shannon"), spoke toward the end of the ceremony. Tschannen, who is 97, donated $18.5 million for the building's construction. His lifetime giving totals more than $38.5 million, making Tschannen UC Davis Health's largest individual donor.
Tschannen grew up in Switzerland. In the 1950s, he immigrated to Canada and then to the Midwest in the United States to pursue a career as an engineer. He began buying investment properties as a hobby and eventually quit his job to manage his properties full-time.
In 2000, Tschannen began losing his sight to glaucoma. When untreated, the disorder can result in vision loss and blindness. His ophthalmologist referred Tschannen to the UC Davis Eye Center where he underwent eye surgery by Ophthalmologist Michele Lim to improve his vision and manage his glaucoma.
In his remarks, Tschannen said he hoped the facility would help people have better health and better lives for generations to come. "My thanks to all the people involved in putting up this building. I thank them for their efforts and hard work to get it finished. I just cannot thank you enough." He also gave special recognition to Michele Lim and thanked everyone for what they had done for him.
Building is nearing completion
After the dedication ceremony, participants were taken on small group tours of the 78,000-square-foot building, which is nearing completion.
The first floor is dedicated to clinical space for multiple specialties, including pediatric ophthalmology, glaucoma, neuro-ophthalmology, retina, comprehensive ophthalmology and cornea services. It will also feature an optical shop and the Stanley A. and Barbara E. Fingerut optometry service.
The second floor is dedicated to research, refractive surgery and oculoplastic surgery. It will also house the clinical trials office and the Center for Ocular Regenerative Therapies.
Several departments will use the third floor, including the Eye Center and Anesthesiology and Pain Medicine.
The fourth floor is dedicated to academic and faculty office space as well as the Robert B. Miller Auditorium and the Barbara A. and Alan M. Roth, M.D. Pathology Laboratory.
Additional major donors to the Ernest E. Tschannen Eye Institute Building include Melza and Ted Barr, Wayne and Jacque Bartholomew, Louis J. and Karen Burns, Barbara E. Fingerut, Luis Izquierdo Jr., Nancy R. and John L. Keltner, Robert B. Miller, Dona and Gary Novack, Debbie and Bob Price IV, Alan M. Roth, Shelly and Michael Schermer, Molly and Mark Wood, Charlene L. Woodard and David R. Motes, Karen E. and Michael S. Zaharas, and Zeiter Medical Group. A total of 850 donors made the building a reality, which is commemorated in an etched glass wall in the building's lobby.
Updates about the Ernest E. Tschannen Eye Institute Building will be available on the Eye Center website.
The UC Davis Eye Center
The UC Davis Eye Center provides world-class eye care, pioneers collaborative vision research, and trains the next generation of specialists and investigators to become leaders in the Sacramento region and beyond. The Eye Center team aims to transform vision care and develop cures for blinding eye diseases, from cornea to cortex.