Applied Public Health Research Day connects UC Davis students and scholars
(SACRAMENTO)
More than 120 students, faculty and staff attended the first Applied Public Health Research Day at UC Davis. They got the chance to learn and network with students and postdoctoral scholars who presented a variety of public health research projects and studies.
The event, co-hosted by the Center for Healthcare Policy and Research (CHPR), the Graduate Group in Public Health Sciences (GGPHS) and Healthy UC Davis, celebrated National Public Health Week. It included more than 30 posters from undergraduate, graduate and medical students, as well as postdoctoral scholars, fellows and staff from the UC Davis campuses in Davis and Sacramento.
"It was thrilling to see researchers on both sides of the causeway come together to share research findings that will improve public health," said CHPR's interim director Jeffrey Hoch. "Events like this that bring together researchers from diverse fields are critical to advance public health research and health policy."
The event, which was on April 5 in Walker Hall in Davis, offered an opportunity for students and staff to showcase their research, get presentation experience, and benefit from the feedback of experienced researchers and faculty.
"One of the best parts about doing research is sharing the results," said Kim Barrett, vice dean for research and distinguished professor of physiology and membrane biology. "I was really pleased to see the presenters' ability to communicate and present their work with such passion and professionalism. These presenting opportunities stimulate discussions, spark new ideas and inspire others to continue making meaningful contributions to the field of public health."
Networking and receiving feedback
The event was also a chance for students and other researchers to connect with people potentially interested in using their research results. Presenters and attendees networked with graduate students, practitioners and scholars.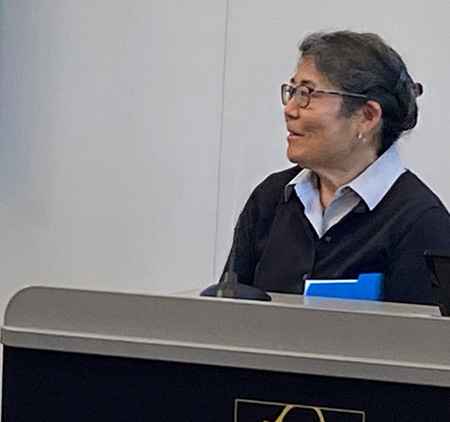 "We are glad that this event served as a forum for learning, networking and connecting with other researchers," said Carolyn Dewa, professor and chair of the Graduate Group in Public Health Sciences. "We're very grateful to everyone who supported the event and provided not only help but guidance to the students."
The presenters showcased the results of many months of hard work and dedication for public health research. Their studies covered a wide range of topics, from mental, emotional, physical and environmental health to health policy and services. The research also spanned geography, from assessing the nutritional status among women of reproductive age in Tanzania to sexual education's impact on rural adolescents in the United States.
"This kind of research has the potential to have a positive impact, whether looking at the well-being of individuals of communities or the entire population. This desire to improve health is really bringing together all kinds of students from different schools," Barrett said in her remarks to the presenters.

Awards recognized research excellence in undergraduate, graduate, Healthy UC Davis funded community health projects, and equity in mental health projects.
The event also included interactive activities with Aggie Mental Health Ambassadors, food, and a UC Living Fit Forever fitness class on the South Lawn of Walker Hall.