Esteemed UC Davis translational researcher captures top award
Julie Sutcliffe honored by the Society of Nuclear Medicine and Molecular Imaging
(SACRAMENTO)
Giving hope to people facing one of the leading cause of cancer death, pancreatic cancer, is what motivates UC Davis Comprehensive Cancer researcher Julie Sutcliffe. Now, her critically important, life-saving work is earning her international recognition.
Sutcliffe was presented with the 2023 Society of Nuclear Medicine and Molecular Imaging (SNMMI) Henry N. Wagner, Jr., Image of the Year award for her leading edge "theranostics" Phase I clinical trial in patients with metastatic pancreas cancer. Theranostics is the combination of diagnostics and therapeutics. She explains how it works in a SNMMI interview after she accepted the award on June 26.
In announcing the award, SNMMI Scientific Program Chair Heather Jacene said, "This new theranostic approach to detecting and treating pancreatic cancer, as shown in the Image of the Year, is a prime example of how personalized medicine can noninvasively detect disease, appropriately select and effectively treat patients, and have a significant, positive impact on the lives of many."
Each year, SNMMI chooses an image that best exemplifies the most promising advances in the field of nuclear medicine and molecular imaging. This year, the SNMMI Image of the Year was chosen from more than 1,500 abstracts submitted for its annual meeting.
Behind the winning image
Sutcliffe is a professor of internal medicine and biomedical engineering at UC Davis. The Sutcliffe Lab research team bridges the spectrum, from benchtop discovery to clinical trials, with the goal of having aproductive impact on the improvement of patient care and transforming how cancer is detected and treated.
Sutcliffe is director of the cyclotron and radiochemistry facility at the UC Davis Center for Molecular and Genomic Imaging as well as co-director of the center. She is a SNMMI fellow as well as a fellow of the World Molecular Imaging Society and the American Institute for Medical and Biological Engineering.
Sutcliffe's SNMMI award was the result of her team's first-in-human evaluation of the novel theranostic pairing of two radiolabeled peptides 68Ga-DOTA-5G as the diagnostic and 177Lu-DOTA-ABM-5G as the therapeutic. The 68Ga-DOTA-5G successfully detected metastatic pancreatic cancer and the 177Lu-DOTA-ABM-5G allowed for targeted treatment of the disease.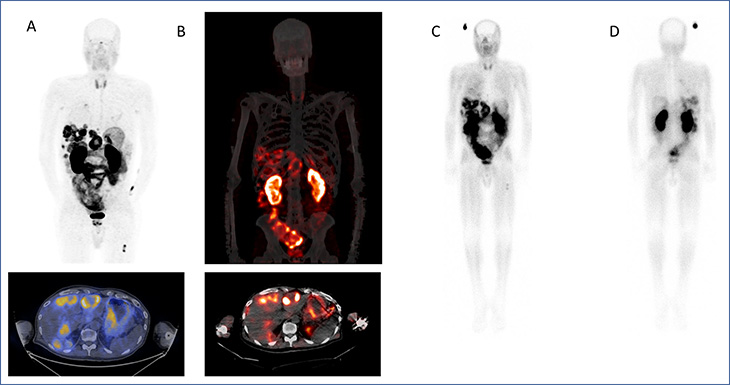 In her presentation, Sutcliffe said the combination was well tolerated among patients and has the potential to make a significant improvement in the clinical care and treatment of patients with metastatic pancreatic cancer, as well as other cancers.
"Poor patient outcomes are due partly to the late stage at which the majority of patients are diagnosed and partly to the limited and relatively ineffective treatment options," Sutcliffe said. "Our goal with this study was to develop a theranostic strategy to facilitate both earlier detection and more effective treatment for this devastating malignancy."
Patients with metastatic or locally advanced pancreatic cancer who demonstrated advanced disease that did not respond to at least one prior standard-of-care treatment were recruited to the study. To date, 24 patients have participated.
Clinical trials lead to hope for a cure
Despite exhaustive testing and some encouraging advances in first- and second-line treatments, pancreatic cancer remains one of the most lethal types of cancer. The American Cancer Society estimates that more than 64,000 people will be diagnosed with pancreatic cancer in 2023, and more than 50,000 of them will die from the disease—a 5-year survival rate of only 12%.
"Results from this Phase I trial will pave the way for additional clinical trials in patients with other malignancies including, but not limited to, non-small cell lung cancer, breast cancer, and head and neck cancers," Sutcliffe said. "This is the culmination of 20 years of research by the Sutcliffe Lab and a breakthrough that could be a major improvement over current treatment options."
The Phase I arm of this study will be completed in the summer of 2023, and researchers anticipate that a second trial in patients with metastatic non-small cell lung cancer will open to enrollment in fall 2023. A third trial for patients with metastatic carcinoma of any primary origin is expected to commence during the winter of 2023.
Sutcliffe also receives $500,000 Mars Shot research grant
Sutcliffe was also presented at the annual SNMMI meeting with a $500,000 grant from the 2023 Mars Shot Fund. The fund recognizes individuals who are making a transformative impact in the field and elevating the value of nuclear medicine and molecular imaging. Sutcliffe's Mars Shot grant was awarded based on her proposal "Evaluating the Integrin αvβ6-targeted Molecular Imaging Agent [68Ga]Ga DOTA-5G as a Diagnostic for Lobular Breast Cancer."
"This study will enable patients to receive more effective imaging that will improve their care by detecting disease earlier," Sutcliffe said. "We therefore expect this molecularly targeted approach to have an immediate and much-needed benefit for this subpopulation of patients."
UC Davis Comprehensive Cancer Center
UC Davis Comprehensive Cancer Center is the only National Cancer Institute-designated center serving the Central Valley and inland Northern California, a region of more than 6 million people. Its specialists provide compassionate, comprehensive care for more than 100,000 adults and children every year and access to more than 200 active clinical trials at any given time. Its innovative research program engages more than 240 scientists at UC Davis who work collaboratively to advance discovery of new tools to diagnose and treat cancer. Patients have access to leading-edge care, including immunotherapy and other targeted treatments. Its Office of Community Outreach and Engagement addresses disparities in cancer outcomes across diverse populations, and the cancer center provides comprehensive education and workforce development programs for the next generation of clinicians and scientists. For more information, visit cancer.ucdavis.edu.