Diversity and Disparities Lab | Current Research
Vietnamese Caregiver Study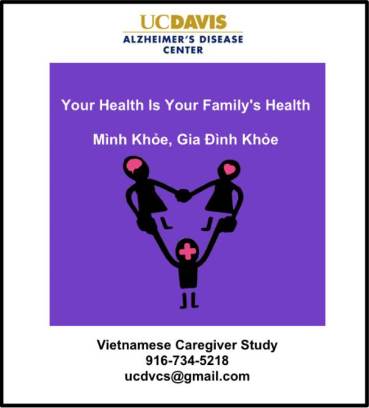 Dr. Meyer and her team are currently recruiting Vietnamese caregivers who are caring for a family member with dementia or problems with memory loss and confusion. This is a newly developed program that will help caregivers learn how to better take care of their family member and themselves. Caregivers will receive valuable information on cognitive impairment and dementia and will be compensated for their time in the study.
If you have any questions or are interested in participating, please contact Dr. Oanh Meyer at olmeyer@ucdavis.edu, or 916-734-5218 or Thuy Do at thuy@asianresources.org or 916-454-1892.
This study is funded by the National Institute on Aging and the Alzheimer's Association.
Volunteer to be a research assistant
We are currently recruiting undergraduate and graduate student volunteers to assist in our study. If you are interested in gaining experience in social behavioral research, please send a cover letter and resume to Dr. Oanh Meyer at olmeyer@ucdavis.edu.