Hospitalized CHP officer receives hero's welcome home
(SACRAMENTO)
After more than two months in the hospital, California Highway Patrol (CHP) officer Aaron Weikert was discharged from UC Davis Medical Center just in time to be home for the holidays.
Weikert was seriously injured after being hit by a car on Stockton Boulevard in South Sacramento. He had been investigating an earlier crash in the area that killed a bicyclist. He was standing outside his patrol vehicle when he was struck by the car. Paramedics rushed him to UC Davis Medical Center where emergency medicine, trauma surgery and critical care teams provided life-saving treatment for his injuries.
"We are so thankful for the support Officer Weikert received here at UC Davis," said Mark Leavitt, public information officer for South Sacramento CHP. "He sustained some major injuries and it's a miracle for him to be going home today."
Upon discharge, Weikert was greeted by over 50 CHP officers, friends and family – who loudly cheered as his wife escorted him out of the hospital.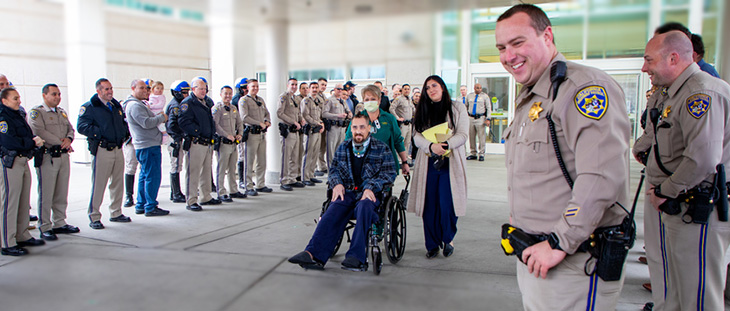 Santa Claus also was in attendance to ride home with Weikert to surprise his three small children, who did not yet know he was coming home. The children had said all they wanted for Christmas was for their "daddy to come home."
Weikert and Santa Claus were escorted to his house by 30 CHP motorcycles and patrol cars, giving him the hero's welcome home, he deserved.
"We are so happy to have him home for the holidays, it really was all that his kids wanted this year," added Leavitt. "He still has a long road in his recovery, but today was a good first step."