'I don't want anyone to have to do what I did.' Breast cancer survivor shares her journey
She urges people to begin mammography screenings by at least age 40
(SACRAMENTO)
Sunday dinner was approaching. It was the time of week Christina's family got together to visit and share a meal with her grandmother, who she called "Mama." Only this time, Christina was straightening her wig and drawing on her eyebrows. She had lost her hair due to chemotherapy. Everyone else at the dinner — her mom and dad, two young children, siblings, aunts and uncles, and cousins — knew about the diagnosis, except for Mama. And Christina was desperate to keep it that way.
Mama was a worrier. With two great-grandchildren, eight grandchildren, and five children at the time, she "took it all on herself," Christina remembered. "If she knew I was sick, she would be devastated and would not be able to eat or sleep."
To protect her from the pain of learning about her granddaughter's stage-three breast cancer diagnosis at the age of 36, Christina successfully hid the fact the entire time: all 16 weeks of chemo, hair loss and all.

She credits her UC Davis Comprehensive Cancer Center oncologist Helen Chew, who helped establish Christina's chemotherapy plan. Chew proposed Tuesdays for chemo infusions, which allowed Christina enough time to recover for family dinner every other Sunday.
"She just really felt for me," said Christina, who valued Chew's sensitivity and shared Chinese heritage.
"Christina had a great support system," Chew said. "It's important for a patient to feel a connection, any connection, with their doctors."
The First Signs
A Sacramento resident, Christina first noticed something different during a business trip. Her left breast felt sort of itchy and tender. Almost like a pimple under the skin. She brushed it off as no big deal, until the itch returned a month later. By then it was June 2018. Her annual cervical screening was in August; she figured she could wait until then.
Then her aunt, chief of breast radiology at a Bay Area medical center, heard about Christina's symptoms and urged her to get checked out sooner. UC Davis Health's radiology team had Christina scheduled for a mammogram within a week.
By the end of July, she had a diagnosis of breast cancer, a schedule of magnetic resonance imaging (MRI) scans and computerized tomography (CT) scans, and a consult with surgical oncologist Candice Sauder. Christina would need a mastectomy, with the option for a double mastectomy. The tiny lumps that had barely registered on her radar were all connected to one large, fast-growing grade 3 tumor measuring 6.5 centimeters.
"Christina was very young for a diagnosis and like many patients at this age was diagnosed after feeling a mass," Sauder said. "Her disease was quite extensive at the time it was discovered. It required a mastectomy and axillary lymph node dissection in addition to adjuvant therapies, such as chemotherapy and radiation, but with the multidisciplinary care she received here at UC Davis, she should have a great long-term prognosis."
On September 15, Sauder performed a double mastectomy to remove Christina's breasts, while plastic surgeon Lee Pu completed a breast reconstruction in the same surgery. During the procedure, the care team discovered the cancer had spread to her lymph nodes. Surgeons removed all 22 of them from her left axilla (shoulder area). Christina would need chemotherapy.
Everything seemed to be happening so fast, on top of having to recover from surgery. "It was insane. I've never felt more pain. I delivered both my kids with no meds, and it felt like this was worse," Christina said.
She ended up moving in with her parents, who set up an area downstairs and wedged her into the couch with pillows so she wouldn't lean in her sleep. Her mother took time off work to care for Christina with her retired father. They both attended every appointment, while her father filled a binder with medical notes.
"It was just very humbling, I guess because I've never really been injured or relied on others to care for me," she explained. An avid runner, she had been training for a Spartan race, a type of obstacle course event, up to her diagnosis. "To not be able to do that was devastating to me."
Finding peace through connection
Her village provided a cocoon: supportive parents, quality time with her children (then 3 and 6 years old), dinners with Mama, and a care team she thanks from the bottom of her heart. Even now when speaking about her physicians, nurses, and technicians, she refers to nearly everyone by name. Years later, she cherishes the connections she made during her treatment journey.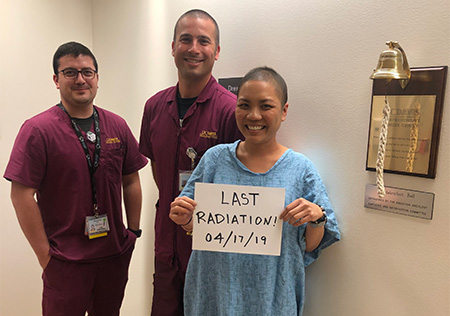 "Those relationships made me feel confident in UC Davis Health because they cared about me as a person, not just a patient or a medical record number," she said. "Everything was personalized to my unique situation, my body, and my personality."
In addition to timing chemo treatments to Christina's schedule, Chew also customized her medication regimen so Christina had the best chance of avoiding nausea. It worked. When she developed neuropathy in her fingers and toes, they delayed treatment for a week so her body could catch up.
Christina also worked hard to take care of herself. When she had to undergo radiation, she began soothing her skin with a homemade concoction of calendula, aloe, coconut oil, and lavender. Radiation oncologist Megan Daly commended the treatment for minimizing her burns. "Keep doing what you're doing. It's working," Daly said.
Everything was personalized to my unique situation, my body, and my personality."
Today, Christina celebrates the results of her final breast reconstruction, which Pu performed in March 2020, mere days before the COVID-19 lockdown. "It looks amazing. I'm just so happy with it," she said. She's especially thrilled she decided against nipples. "I don't ever have to wear a bra if I don't want, which is awesome."
It took her awhile to get to this place of acceptance, however. During radiation, she began attending a breast cancer survivor group called Save Ourselves, which she learned about through UC Davis Health. Though helpful, it forced Christina to confront the grief she'd been too busy to process at first. She realized she had been holding back a lot of emotion to protect her children and others around her.
"Everyone always said, 'Oh, you're so strong.' I hated it when people said that. I don't feel strong. I feel like crap and I'm really upset right now. You saying I'm strong makes me feel like I have to act like I'm strong," said Christina, who would end up crying in a room by herself. It was exhausting.
A new mission
The support group and the friends she made helped her process and accept not only that she had cancer but that she got through it. She's okay now. Even more, she has stepped into the role of advocate, whether it's helping other people through the support group or reminding friends to do self-exams and regularly get screened at the doctor's office.
More people will now be able to. The U.S. Preventive Services Taskforce recently lowered the recommended breast cancer screening age to 40 years old, a move that impacts an additional 20 million patients. The decision comes amid an increase in younger people getting breast cancer: between 2015 and 2019, the annual incidence of breast cancer among women aged 40-49 increased by about 2% each year.
The taskforce is also urgently calling for more research on medical disparities to determine whether Black women could be helped by different screening strategies. Black women are 40% more likely to die of breast cancer than white women of the same age.
"Do whatever you can to help early detection," says Christina. "I don't want anyone to have to do what I did."
Through it all, her family and care teams continue to stand strong beside her. It's something Christina knows about, having protected her grandmother from the pain of her diagnosis all along.
Related Stories
UC Davis Comprehensive Cancer Center
UC Davis Comprehensive Cancer Center is the only National Cancer Institute-designated center serving the Central Valley and inland Northern California, a region of more than 6 million people. Its specialists provide compassionate, comprehensive care for more than 100,000 adults and children every year and access to more than 200 active clinical trials at any given time. Its innovative research program engages more than 240 scientists at UC Davis who work collaboratively to advance discovery of new tools to diagnose and treat cancer. Patients have access to leading-edge care, including immunotherapy and other targeted treatments. Its Office of Community Outreach and Engagement addresses disparities in cancer outcomes across diverse populations, and the cancer center provides comprehensive education and workforce development programs for the next generation of clinicians and scientists. For more information, visit cancer.ucdavis.edu.