Scientist Academy introduces high school students to health and science research
Program aims to strengthen pathways to education and careers in science for underrepresented communities
(SACRAMENTO)
A UC Davis Health program for high school students from underserved communities interested in health education and research aims to improve equity in health- and science-related professions.
The Youth Community Scientist Academy (YCSA) in Health Research is a 10-week program that offers a challenging educational enrichment experience for students from Oak Park, Del Paso Heights, and other underserved communities in the Sacramento area.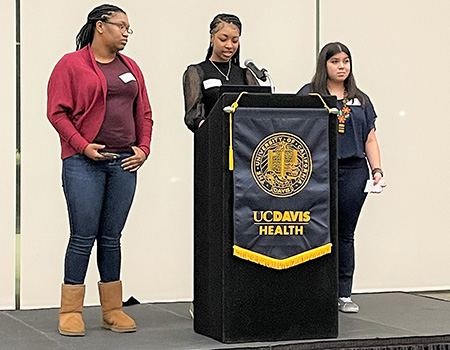 "It has become more apparent than ever that a sustainable future must have equity at its center," said Elizabeth Vasile, who leads the initiative for the UC Davis Clinical and Translational Science Center (CTSC).
"Equity starts right here in places like this with programs like YCSA," she said. "That introduces high school students to principles of scientific research, vocabulary and concepts that they will take with them to their further education and careers."
Vasile is director of Health Equity Resources and Outreach, or HERO, which has teamed up with local community partner Urban Advocates and Achievers (UAA). Building on the CTSC's mission to develop research teams of the future, the program, which ended Friday, offered student participants the opportunity for a hands-on experience in the health research processes. Students learned about basic theory, history, and practice of health research and the opportunities and pathways to participation, education and career opportunities in the health and science fields.
Students worked with UC Davis staff and faculty on critical elements of health research through classroom discussions, monitoring and guidance as they conceived research topics and developed proposals. Other mentors covered subjects such as the role of Institutional Review Boards in clinical trials, participant recruitment and retention, and the importance of diverse representation in research.
It has become more apparent than ever that a sustainable future must have equity at its center"
The program culminated Friday at a ceremony at Betty Irene Moore Hall on the UC Davis Health campus in Sacramento. Parents, extended family, and friends attended and watched students speaking from a podium and viewed corresponding PowerPoint presentations.
"The program," Vasile told the audience, "brings me back to equity and the importance of participation. As much as we Davis experts in science and research share what we know with you, we also need you, and the insights you bring to this process of discovery based on your life experiences, to share what you know with us."
Research topics at the Health Research Symposium and Commencement Celebration included:
Whether socioeconomic status, race, and age can affect morbidity of COVID-19
Role of schizophrenia in unhoused female adults in Sacramento
How long-term effects of myocardial infarction vary between different age groups
Types of childhood trauma that contribute to depression in high schoolers.
Presenters Allahna Green, a senior at Sacramento Charter High School; Alizette Olivares-Ramos, a freshman at Christian Brothers High School; and Zorah Nichols, a senior at Inderkum High School, spoke on the role of schizophrenia in unhoused women in Sacramento. As they presented, they outlined the importance of their proposed study, possible impacts, planned methods of research, intended budget and anticipated significance of such a study.
"We need to understand the role trust plays in the treatment and diagnosis of unhoused women of color with schizophrenia," Nichols said from the stage. "We need to shift the view on the homeless women population as a whole and get them the resources they need so they will not be neglected and pushed away."
The UC Davis Health CTSC receives support from the NIH National Center for Advancing Translational Sciences (Award TR001860). For more information on the YCSA program, contact HERO@ucdavis.edu