UC Davis medical students reach underserved populations between Sacramento and Portland
COMPADRE partnership opens clinical training program in Klamath Falls, OR in an effort to increase physician workforce
(KLAMATH FALLS, OR)
Deep in Southern Oregon — facing backdrops of rich forests, a world-class migratory bird flyway and vivid landscapes — Brandon Drws is helping to transform how UC Davis is training future doctors for rural communities.
He is the first student from the UC Davis School of Medicine assigned to care for patients out of state under a unique partnership with Oregon Health & Science University (OHSU). The collaboration, known as COMPADRE, sends students and residents to clinics and hospitals in the cities of Sacramento and Portland, as well as the vast, more sparsely populated land in between, where physicians are in short supply.
Drws's six-week stint at Cascades East Family Medicine Center serves as a preview of the life and work of a rural doctor. And the assignment is a good fit: Drws is a nature lover from rustic El Dorado County. So choosing a clinical rotation in this city of only 22,000 people is like a dream come true.
"I love the community that you get to build with your patients, the relationships you get to have," Drws said. "But I also love the kind of medicine you get to practice."
In urban settings like Sacramento, Drws explained, it's easier for primary care physicians to refer patients to specialty care when they encounter a disease they are uncertain about diagnosing. But in Klamath Falls, which is two-and-a-half hours from some specialty care services, family medicine doctors in a sense are the specialists.
"In places like this," Drws said on a recent afternoon between patient appointments, "you have to practice to the highest level of your license. No matter what kind of doctor you are, you have to become more comfortable with all of the conditions that you see."
He added: "This is the kind of program that I really liked thinking about when I first considered a career in medicine."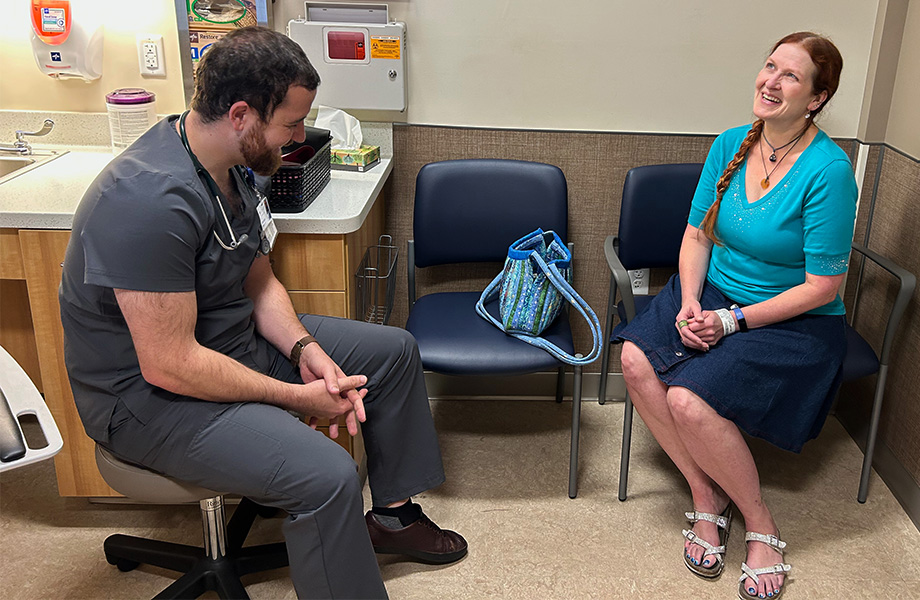 Transforming the physician workforce to meet rural needs
COMPADRE, which stands for California Oregon Medical Partnership to Address Disparities in Rural Education and Health, started with a big idea in 2017.
That's when leaders from the UC Davis and OHSU medical schools — which train students and residents to deliver high-quality care for underserved patients — joined forces to apply for a grant from the American Medical Association to transform access to health care between their campuses.
They received $1.8 million to fund their proposal to increase the number of doctors who choose to work in the underserved communities of Southern Oregon and Northern California.
So they tapped 10 health care systems, 16 hospitals and a network of Federally Qualified Health Centers as training sites for students and for newly graduated doctors entering various residency programs. In California, the COMPADRE sites are in and around Eureka, Redding, Ukiah, Santa Rosa and Sacramento. The Oregon sites are in Portland, Hillsboro, Roseburg and Klamath Falls.
If the schools could boost the number of residents assigned to train in those underserved areas, they reasoned, then they should naturally be able to increase the number of doctors who practice there.
"We certainly know that when a physician trains in a residency program, about 60% of them stay within about 100 miles of that program," said Tonya Fancher. She's the UC Davis associate dean for workforce innovation and education quality improvement who helped launch COMPADRE.
"When we look out our door and look across Northern California, we feel it's our responsibility to really work with those communities, health centers and hospitals to create the doctors who will work there," added Fancher, an internal medicine physician and the school's director of the Center for a Diverse Health Care Workforce.
At the onset of COMPADRE, leaders also took into consideration that some of the counties in California and Oregon where people suffer the poorest health are between Sacramento and Portland, due to a lack of access to providers.
"We know from national data that the more primary care physicians you have in a region, the longer the life expectancy," Fancher said. "So that's something we want to help."
UC Davis has long been devoted to advancing health in rural and remote communities. In 2007, it started the Rural-PRIME pathway, a medical education track for students who envision a career working in California's out-of-the-way areas.
"We focus on Rural-PRIME because we serve so many rural communities from Northern California and receive those patients here at UC Davis, but those rural communities also need providers there, physicians there, taking care of them as well," said Melody Tran-Reina. She is an assistant professor of internal medicine and executive director of the UC Davis Community Health Scholars program, which administers pathways, including Rural-PRIME.
After COMPADRE created an infrastructure for residency training, Rural-PRIME benefitted too: COMPADRE invites third-year medical students, like Drws, to train in the same sites during their clinical rotations, also known as clerkships.
Treating 'the whole gamut' of health conditions
Brandon Drws, wearing gray scrubs with a stethoscope resting over his shoulders, shuttles from exam room to exam room in the busy four-story health center that overlooks Upper Klamath Lake and the Cascade Mountains.
"Hi, my name's Brandon," he says upon greetings patients. "I'm a medical student from UC Davis."
The patients come with an array of concerns, and some have delayed their care because they live far, including extreme Northern California. They come with diabetes, muscle aches and pains, hypertension, anxiety, reproductive issues. "The whole gamut," Drws likes to say.
As a third-year student he's barely past the midpoint of medical school but has similar responsibilities to some of the doctors here. He interviews patients about the health concerns that brought them to the clinic. He builds rapport. He counsels them. He compiles treatment plans and shares them with residents and attending physicians who supervise him.
The clinic training, he said, "is very, very autonomous, and very faithful to what practicing medicine is really like."
UC Davis students live rent free in a downtown apartment building owned by OHSU, a short drive from the clinic. They spend four weeks in the outpatient clinic and two weeks at nearby Sky Lakes Medical Center, the only hospital in town.
"It's a really supportive environment for students to learn and get a lot of hands-on experience," said Nellie Wirsing, who oversees medical student education at Cascades East Family Medicine Center and is Drws's faculty mentor. "We've always taken medical students from OHSU, but this is the first experience we've had with having UC Davis students," Wirsing said. "So it's really cool. It's kind of a new adventure for us, too."
Promoting patient care and the local scenery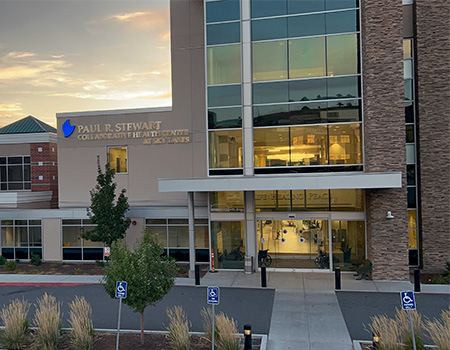 Communities like Klamath Falls have long struggled to attract doctors who often prefer higher-paying jobs in vibrant and prestigious cities.
According to a 2023 report by the Health Resources and Services Administration, 65% of rural areas suffer from a shortage of primary care physicians. In addition, nearly 20% of Americans live in rural areas, yet fewer than 10% of physicians practice there.
California and the federal government pour tens of millions of dollars into loan repayment programs to encourage new doctors in rural places, yet that hasn't solved the shortage.
"Recruiting physicians to our area is a challenge," acknowledged Faith Koepke, clinic director of Cascades East Family Medicine Center.
The Cascades East Family Medicine Residency Program heavily promotes the local scenery and recreation options to lure medical professionals. Crater Lake National Park, they are quick to say, is only an hour away. There's also hiking, rafting, cycling, skiing and 300 days of sunshine in the Klamath Basin, according to the program's website.
When Wirsing, a family medicine doctor, recruits trainees, she highlights the tight knit community feel. "I see my patients at my kids' games, I see them at school, I see them at the grocery store, I work with them, I see them at the hospital," she said. "There's a lot more intertwined interactions that you get to share with people, and I think that just makes it extra special."
Selecting doctors already familiar with rural life
But perhaps the best recruitment method is to find people who grew up in rural areas or trained in them.
People like Drws, who was raised in homes near Placerville, Shingle Springs and Georgetown and can appreciate what it's like to live in a slower-paced world, far from school, work and hospitals.
"Being from a rural area, I know the needs of a rural community," said Drws, whose family has been in the Sierra foothills and nearby regions for six generations.
The partnership between Cascades East, Sky Lakes Medical Center and OHSU's residency program has been key for physician hires. Most new doctors in the area trained in the clinic's residency program, Koepke said.
The OHSU-led program, built three decades ago, has 27 residents at any given time, plus nurse practitioner, physician assistant and medical students from OHSU.
And now, from UC Davis too. Drws said the program and the town are leaving a good impression on him.
"Regardless of which specialty I end up in, my wife and I absolutely see ourselves settling down in a small town, someplace rural," Drws said.
"We both like the rural environment," he added, "and we both recognize that the opportunities that you give up by leaving a large city are more than made up for by the opportunities that exist out here in these kinds of places."