Cardiac arrest: Save a life in five steps with guidance from Project ADAM Sacramento
(SACRAMENTO)
Cardiac arrest statistics tell a daunting story. According to the American Heart Association, more than 350,000 cardiac arrests - when the heart malfunctions and stops beating unexpectedly - occur outside of the hospital each year and 90 percent of those people die. Unlike a heart attack - when blood flow to the heart is blocked but the person is still talking and breathing - nearly 70% of these cardiac arrest incidents occur at home which means it is likely happening to someone you love. With summer fast approaching and more people working remotely, it's even more important to revisit the five steps to save a life: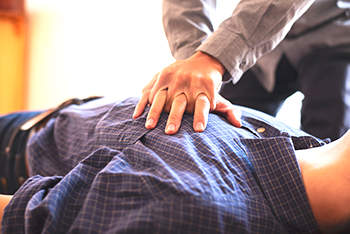 Step 1 - Recognize sudden cardiac arrest (SCA): Watch for a sudden collapse or fainting. Someone who has just experienced sudden cardiac arrest will lose consciousness. Check for a pulse and breathing while attempting to determine if the person is alert.
Step 2 - Call 911
Step 3 - Start CPR: Push hard, push fast - no mouth-to-mouth contact is needed. Recent guidelines developed by the American Heart Association promote Hands-Only CPR as an acceptable way to help a victim suffering from cardiac arrest.
Step 4 - Shock: Use an AED
Step 5 - Fast Access to EMS (Emergency Medical Services)
Cardiac emergency preparedness is vital wherever you live and work, so that's why Project ADAM staff and volunteers facilitate no-cost CPR and AED education and hands-on training at a variety of community events throughout the year. Project ADAM is committed to saving lives by empowering schools and communities to be prepared for sudden cardiac arrest (SCA), providing the foundation for schools to develop their program and become Heart Safe. Achieving Project ADAM's Heart Safe School designation means that your school is prepared to appropriately respond to sudden cardiac arrest on campus, thereby increasing potential to save the life of a student, a staff member or visitor. Contact Project ADAM for more information: 916-627-9533.
UC Davis Children's Hospital is the Sacramento region's only nationally ranked, comprehensive hospital providing care for infants, children, adolescents and young adults with primary, subspecialty and critical care. It includes the Central Valley's only pediatric emergency department and level I pediatric trauma center, which offers the highest level of care for its critically ill patients, as well as a level I children's surgery center. The 129-bed children's hospital includes the state-of-the-art 49-bed neonatal and 24-bed pediatric intensive care and pediatric cardiac intensive care units. For more information, visit children.ucdavis.edu.