Could CAR T cells offer hope for an HIV cure?
UC Davis Health researchers aim to use CAR T cells to target HIV cells to control the virus without medication
(SACRAMENTO)
UC Davis Health researchers have launched a novel study looking to identify a potential cure for HIV. Using immunotherapy, researchers will take a patient's own white blood cells, called T-cells, and modify them so that they can identify and target HIV cells to control the virus without medication.
Worldwide, almost 38 million people are living with HIV, the virus that can lead to AIDS. Roughly 75% of them receive antiviral treatment, according to UNAIDS. In California, 150,000 people live with HIV and 68% of these individuals are virally suppressed due to treatment.
Targeting HIV with CAR T cells
"For this study we will educate the cells by inserting a gene to target cells that have been infected by the HIV virus," explained Mehrdad Abedi, professor of internal medicine, hematology and oncology and the principal investigator of the study. "The idea is these modified cells will attach to the HIV-infected cells and destroy the cells that are infected while also stopping the infected cells' ability to replicate."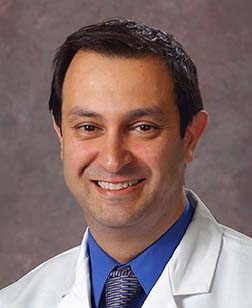 Modified T-cells, known as CAR T cells, are an FDA-approved treatment for different forms of cancer including acute lymphoblastic leukemia, non-Hodgkin lymphoma, and multiple myeloma. With cancer, the immune system often fails to deploy T-cells right away or at all. When it does, the attack is ineffective. CAR T-cell immunotherapy changes these collected T-cells to produce chimeric antigen receptors (or CARs) that adhere to tumors to destroy them.
The search for an HIV cure
Three patients have been cured of HIV using bone marrow transplants.
A woman in New York living with HIV, who received a cord blood stem cell transplant for high-risk acute myeloid leukemia, appears to be the most recent person to be cured. She received a bone marrow transplant using umbilical cord blood donor cells that bore a mutation that makes them resistant to HIV infection to treat her leukemia.
There have also been two previous cases involving an HIV cure following allogeneic bone marrow transplants. Both patients had leukemia and received bone marrow transplants from donors who carried the same mutation that blocks HIV infection, called CCR delta 32. The mutation has been identified in about 20,000 donors, most of whom are of Northern European descent.
"While these stories provide inspiration and hope to finding a cure for HIV, a bone marrow transplant is not a realistic option for most patients," said Abedi. "Such transplants are highly invasive and risky, so they are generally offered only to people with cancer who have exhausted all other options."
However, Abedi and his fellow researchers do also see this as a potential road map to finding a cure for HIV.
"In addition to the three patients who were cured with bone marrow transplants, a local resident was cured of HIV without a bone marrow transplant or antiviral medications, as reported in the journal Nature," said Paolo Troia-Cancio, a clinical professor of medicine with the infectious disease division with over 20 years of experience treating HIV and co-investigator on the CAR T cell study. "An HIV cure is possible, but generalizing it to other individuals living with HIV has been elusive."
Study seeking HIV patients
For the study, researchers are working to identify and recruit HIV-positive patients between the ages of 18 and 65 who have had an undetectable HIV viral load for the 12 months and have been on continuous antiretroviral therapy for at least 12 months. Patients need to be willing to pause their antiretroviral therapy as part of the study.
"We are looking for patients who are highly motivated to be part of a study that could potentially lead to a cure of HIV," said Abedi.
"While it is exciting, the study will require a lot of dedication from the patient because of the time commitment involved and the necessary steps required," said Troia-Cancio.
The study is funded by a grant from the California Institute for Regenerative Medicine (CIRM) and is sponsored by Caring Cross and University of California San Francisco. Additional investigators for the study include Steven Deeks, a professor of medicine at UC San Francisco, who has been engaged in HIV research and clinical care since 1993.
For more information about this study, contact study coordinator Christina Dyer at 916-703-3110 or HS-DuoCARTeam@ucdavis.edu.