Honoring veterans who served: Chuck Abraham
(SACRAMENTO)
In 1952, Charles "Chuck" Abraham was 20 years old, living and working on the family farm near Clinton, Missouri. He had dreams of going to college. By the end of the year, he had been drafted by the U.S. Army.
Abraham soon found himself in the midst of the Korean War conflict. After receiving artillery training and an M-1 carbine rifle, he was deployed in a howitzer battalion with the 40th Infantry Division on hotly contested front lines near the fabled 38th parallel. Abraham was one of 1.8 million U.S. military personnel who served in the Korean War.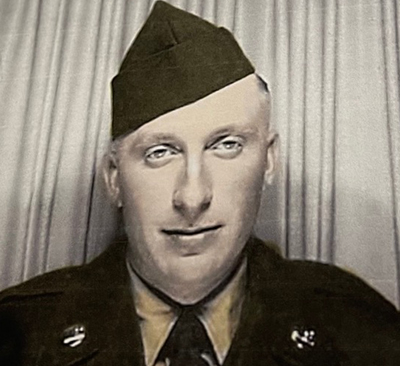 Abraham's job title was "computer operator," and the computer he used was effectively a slide rule. It was his duty to pinpoint the coordinates for where the 105mm howitzer's shells would be aimed. This was the standard U.S. light field weapon used in World War II and the Korean War – and it had a reputation for accuracy and a powerful punch.
Abraham recalled seeing enemy soldiers frequently attacking their position that summer in 1953. Then suddenly, on July 27, a Chinese troop commander approached holding a white flag high overhead, indicating he was ending hostilities in that sector. An armistice was eventually signed by all engaged countries. Abraham headed back to the U.S. on emergency leave to be near his dying mother in Missouri.
Our veterans are so close to passing on, so conducting a ceremony to thank them for their service allows them to forget their pain and suffering and their fears, if just for a few moments.
Fast forward to Sept. 18, 2021, in Sacramento. Abraham, now 89, was honored for his Korean military service by UC Davis Hospice at a virtual ceremony with 30 family members and loved ones attending. Through its We Honor Veterans program, hospice staff and volunteers hold personalized pinning ceremonies – often the last opportunity for veterans to receive thanks and gratitude, and to share their remarkable life experiences serving their country.
Hospice volunteer Randy Kanouse hosted the event for Abraham, and later recalled its impact on all those who gathered, especially a grateful Abraham.
"Our veterans are so close to passing on, so conducting a ceremony to thank them for their service allows them to forget their pain and suffering and their fears, if just for a few moments," said Kanouse, who helped establish the We Honor Veterans program in 2012. "Most often, their family members and close friends know almost nothing of what their loved one did when they served our country, so many years ago, so family and friends get to learn about an entirely different dimension of the life of our patient."
Kanouse said that during these ceremonies, "our veterans laugh, they smile, they joke, they also bask in being honored in this manner. It's truly a joyous moment for these men and women to relive moments from their youth."
Abraham had arrived in Korea as a private, and by the time he left, he had been promoted to sergeant. He was discharged in the spring of 1954, and enrolled that fall at the University of Missouri. He eventually earned a degree in civil engineering and became a hydrological engineer. His older brothers, sons, grandson, and granddaughter's husband would all serve in the U.S. armed forces.
At Abraham's ceremony, Kanouse presented the veteran with a lapel pin marking his service, and said, "Today, we have come here to thank you for your service. We have come here to honor you for your service. We have come here to recite your story for your loved ones and to serve as a model for young people across the country to understand what a courageous man looks like and what a courageous man has accomplished in his life."
He noted that these events demonstrate UC Davis Health's commitment to caring for patients in the fullest context of that special sense of humanity.
"Our patients are so much more than medical cases, and by conducting ceremonies to acknowledge what these veterans did and to thank them for their sacrifices, we honor them in the deepest way possible," he said.
As a society, Kanouse said, it's important to celebrate and thank all of our loved ones near the end of their lives. It's not wise to wait until a person has passed away to conduct a memorial service, he added.
"We should make the time to thank family and friends before they pass on. UC Davis Health is a leader in recognizing that caring for our patients means so much more than simply treating their illness," he said.
The UC Davis Hospice Program is part of We Honor Veterans, a national organization that addresses the unique needs of America's veterans, their families and community organizations. It's estimated that more than 17 million veterans currently live in America. As the nation honors veterans for their military services each year on Veteran's Day (Nov. 11), We Honor Veterans emphasizes the importance of recognition and compassionate care at the end of life's journey.
Ways to give back
If you are interested in learning more about ways to support and give back to UC Davis Hospice, call either the volunteer coordinator at 916-731-6873 or Reese Scherber at 916-291-5775. If you are interested in donating online, please visit: give.ucdavis.edu/go/hospice or scan the QR code to the right. Supporters provide a special touch of love for patients and families who are served.