Hospitalized Caldor firefighter gets moral and monetary support
Firefighters Burn Institute members present $1,500 check and promise follow-up care
(SACRAMENTO)
The Caldor Fire was ripping through rugged terrain on its march toward Tahoe when volunteer firefighter Richard Gerety III joined hundreds of other brave men and women helping to save homes in the Kyburz area.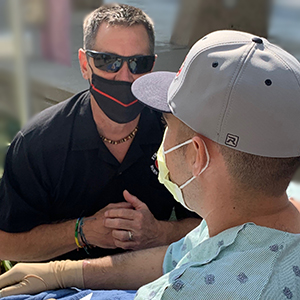 He was working in the area of Pack Saddle Road when suddenly, he felt the ground give way underneath him.
"I fell into a stump hole filled with hot ash," said the 31-year-old tractor mechanic who comes from a long line of volunteer firefighters.
Gerety, who lives in Patterson with his wife Jennifer and 2-year-old son, was severely burned on both hands, his legs and his stomach. After repeated skin grafts, he is recovering at the UC Davis Medical Center.
Today he was visited by fellow firefighters with the West Stanislaus Fire Protection District as well as the executive director of the Firefighters Burn Institute Joe Pick.
"I give my doctors and nurses here a 10 out of 10."
— Richard Gerety III
"We provide recovery programs for burn survivors and that includes accessing $500 for every week of hospitalization from the California Fire Foundation," said Pick. "Richard isn't out of the hospital yet, so this is just his first check."
Pick, who was flanked by three firefighters, added, "Just as important as the financial support, is the emotional support we provide."
Jennifer said Richard is anxious to get home to their son, who he hasn't seen since he was sent to the Caldor Fire in late August. However, he has one more skin graft surgery ahead.
"We are so grateful and humbled by the support we are receiving," said Jennifer. "And that includes the amazing care that UC Davis Health is providing. The staff is so patient and accommodating. It is truly amazing the way they provide whatever Richard needs."
Her husband concurred, "I give my doctors and nurses here a 10 out of 10."
Once healed, Gerety said he wants to "go back out" to the fire lines next season.
"Oh, you bet," he said. "I'm a volunteer firefighter because it's my way of helping my community back home."