Learn & Lounge series empowers adolescents and young adults during cancer treatment and beyond
(SACRAMENTO)
Young cancer patients face unique challenges. That's why the UC Davis Comprehensive Cancer Center started an Adolescent and Young Adult (AYA) Oncology Program in 2020.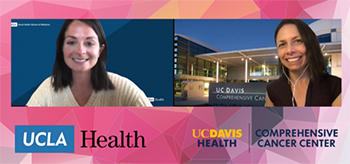 The COVID-19 pandemic, which was unfolding just as the AYA program launched, only strengthened the resolve of cancer center staff members to provide support quickly to cancer patients in their teens and early 20s.
"Only 6 to 7% of all newly diagnosed cancer patients in the U.S. are adolescents and young adults so they often fall through the cracks," said Marcio Malogolowkin, chief of pediatric hematology and medical oncology at UC Davis. "We needed to create a supportive oncology program that would address their social, spiritual and emotional needs — especially as the pandemic added new stress to their lives."
The AYA Oncology Program currently offers support for AYA patients aged 15–39. Program services include counseling, supportive care navigation, nutritional consultations, a monthly support group, and regularly scheduled program events.
In February 2021, the UC Davis Comprehensive Cancer Center AYA program teamed up with the UCLA Health AYA program to begin Learn & Lounge, a virtual meetup that convenes monthly.
There are unique challenges to having cancer as a young person. The AYA oncology program is open to young people, ages 15 and 39, to help with the following issues:

• Fertility education and support
• Body image, sexual health and intimacy
• Strategies to cope with emotions and impact of cancer
• Disability options from work and/or school
• Connection with other young adults with cancer
• Referrals to local and national resources
• Family communication and resiliency
The Learn & Lounge usually starts with introductions or an icebreaker, followed by a short educational session on a topic of relevance to AYA patients and survivors. These could include things like relationships with family members and friends, school struggles, career goals or fertility problems.
"After the educational talk, there is a social hour for patients and survivors only — with no health care professionals allowed," UC Davis AYA cancer project manager Anna Rosenbaum said. "This provides an opportunity for participants to create their own safe space, including time to connect with peers and get support, or just to have fun and forget about cancer for a while."
For the social hour, participants need to be over age 18 and agree to privacy and confidentiality standards. Attendance at Learn & Lounge has ranged from 6 to 16 participants and, post-COVID, in-person support group meetings are planned in different parts of California.
"For now, the value of meeting virtually is that participants can join us from wherever they are — whether in another city or town, in the hospital or out in the backyard," UCLA AYA cancer program manager Julia Leavitt said.
The AYA Oncology Program is funded in part by a grant from Teen Cancer America, a nonprofit organization established by Roger Daltrey and Pete Townshend of the band The Who.
UC Davis Comprehensive Cancer Center
UC Davis Comprehensive Cancer Center is the only National Cancer Institute-designated center serving the Central Valley and inland Northern California, a region of more than 6 million people. Its specialists provide compassionate, comprehensive care for more than 15,000 adults and children every year and access to more than 150 active clinical trials at any given time. Its innovative research program engages more than 225 scientists at UC Davis who work collaboratively to advance discovery of new tools to diagnose and treat cancer. Patients have access to leading-edge care, including immunotherapy and other targeted treatments. Its Office of Community Outreach and Engagement addresses disparities in cancer outcomes across diverse populations, and the cancer center provides comprehensive education and workforce development programs for the next generation of clinicians and scientists. For more information, visit cancer.ucdavis.edu.