New Diamond Doc Award recognizes exceptional patient care
(SACRAMENTO)
On Friday, June 11, chief administrator Brad Simmons and chief medical officer Doug Kirk, presented 35 UC Davis Health physicians with the Diamond Doc Award. The new award recognizes the voice of our patients. It celebrates physicians who demonstrated careful listening, clear explanations, and respectful partnerships and who received the 90th percentile or higher in the hospital consumer assessment of health care providers (HCAHP) survey for the second quarter of the fiscal year 2021.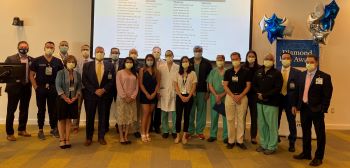 "We are always looking for new and exciting ways to recognize the excellent care our doctors provide our patients," Kirk said. "This award is important because it comes from our patients' experiences. Thank you for ensuring that it is an exceptional experience."
Congratulations to our UC Davis Health Diamond Docs!
Physician

Specialty

Mehrdad Abedi, MD

Hematology/Oncology

John Anderson, MD

Trauma Surgery

Adrienne Atencio, MD

Hospitalist

N. Shakira Bandolin, MD

Emergency Medicine

David Barnes, MD

Emergency Medicine

Brittany Bartolome, MD

Hospitalist

Richard Bold, MD

Surgical Oncology

Rachel Callcut, MD

Trauma Surgery

Carolina Candotti, MD

Hospitalist

Rinita Chakrapani, MD

Hospitalist

Dali Fan, MD

Cardiology

Jennifer Fan, MD

Hospitalist

Ellen Fitzpatrick, MD

Ortho Surgery

Mauro Giordani, MD

Ortho Surgery

Wissam Halabi, MD

Colon/Rectal Surgery

Rasmus Hoeg, MD

Hematology/Oncology

Nicholas Kenyon, MD

Pulmonary

Eric Klineberg, MD

Ortho Spine

Gary Leiserowitz, MD

GYN Onc

Trevor Mills, MD

Emergency Medicine

Aimee Moulin, MD

Emergency Medicine

Ravi Nakrani, MD

OB/GYN

Diana Nguyen, MD

Hospitalist

Hunter Pattison, MD

Emergency Medicine

Gavin Pereira, MD

Ortho Surgery

Richard Perez, MD

Transplant Surgery

Elizabeth Raskin, MD

Colon/Rectal Surgery

Pieter Scheerlink, MD

Emergency Medicine

Lucy Shi, MD

Hospitalist

Voltaire Sinigayan, MD

Hospitalist

Thomas Smith, MD

Cardiology

Michael Trifiro, MD

OB/GYN

Joseph Tuscano, MD

Hematology/Oncology

Charles Whitcomb III, MD

Cardiology

Garrett Wong, MD

Cardiology