New paper proposes diversity, equity and inclusion measures to combat structural health inequities
(SACRAMENTO)
Sergio Aguilar-Gaxiola of UC Davis and six other national leaders in health equity are calling upon the clinical and translational research community to address structural health inequities by placing diversity, equity and inclusion (DEI) at the center of their work.
In a perspective piece published today in the New England Journal of Medicine, the co-authors presented a bold framework for advancing DEI in clinical and translational research. They also highlighted the urgency of engaging underrepresented communities in the medical field.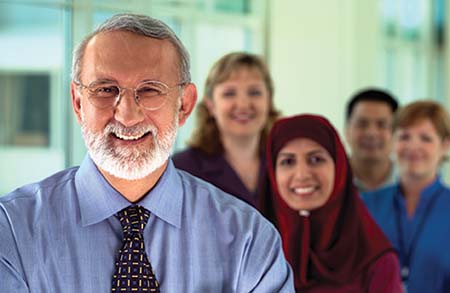 "DEI is essential for extending the scope and creativity of research that seeks to solve complex problems and reduce inequities in health," said Aguilar-Gaxiola, director of the UC Davis Center for Reducing Health Disparities and director of the community engagement program of the UC Davis Clinical Translational Science Center. Aguilar-Gaxiola is also a School of Medicine professor of clinical internal medicine.
In 2020, the leaders of the national consortium of the Clinical and Translational Science Awards (CTSAs) identified four DEI goals linked to the areas of leadership, workforce, research, and clinical trials. They called on the clinical and translational research community to:
Transform the ranks of institutional research leadership, faculty, trainees and staff to reflect the demographic diversity of the communities their organizations serve
Fund health equity and community-oriented research at parity with biomedical research
Build community capacity for research and improve public understanding and trust in science by means of shared investments in research
Ensure that enrollment for all clinical trials reflects the demographic diversity of people with the health conditions being studied
"We believe that to generate sustained and tangible change, bold and visionary goals must be set," the authors wrote.
Their proposed framework points to the need for sustained initiatives from funders, academic institutions, researchers and others to develop a diverse, inclusive and vibrant clinical and translational research enterprise capable of translating biomedical discoveries into health and health equity for all.
The paper also provides specific strategies for achieving diversity, equity, and inclusion in clinical and translational research in leadership, training, research and clinical trials.
"The COVID-19 pandemic and its sociopolitical context have shown how our health care and public health systems are not yet ready to mitigate inequities," Aguilar-Gaxiola said. "Through intentional DEI endorsements and initiatives, the research community can help reduce structural health inequities and bridge these disparities."
The coauthors on the paper are L. Ebony Boulware at Duke University School of Medicine, Giselle Corbie at the University of North Carolina at Chapel Hill School of Medicine, Consuelo H. Wilkins at Vanderbilt University School of Medicine, Raquel Ruiz and Alfred Vitale at the University of Rochester Medical Center, and Leonard E. Egede at the Medical College of Wisconsin.
CTSA is funded by the National Center for Advancing Translational Sciences (NCATS) under the National Institutes of Health (NIH).
Related stories: