Nursing education beyond the hospital earns national award
UC Davis nursing students embed in community setting to grow skills and expand thinking
(SACRAMENTO)
Recently, 75-year-old Pat had trouble assembling her new stationary bike. An avid cyclist in her younger years, she now pedals for health and wellness.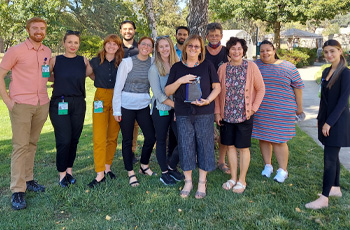 Who did Pat turn to for help with the exercise equipment? An enthusiastic nursing student named Atif Uraizee participating in a community outreach program being pioneered by the Betty Irene Moore School of Nursing at UC Davis.
"When I stopped by to visit her, she welcomed me into her home, discussed her health, everyday routine and shared personal stories of her life," Uraizee recalled. "I helped adjust and tighten her new bike and she now includes this in her daily regimen."
Pat is one of 80 residents of Rolling Oaks, an independent housing community run by the Volunteers of America (VOA). Uraizee is one of eight graduate nursing students who spent 90 hours this summer in clinical rotations at Rolling Oaks working with residents as part of a community health course.
"They are eight extra pairs of eyes and ears and hearts that are listening, hearing, giving their best recommendations and consulting with our team," said Pamela Galloway, the VOA service coordinator at Rolling Oaks. "
Beyond the comfort zone
The idea of nursing interns grew out of a Housing and Urban Development initiative in 2017. The following year, she partnered with the Master's Entry in Nursing Program at UC Davis, receiving eight students every year to work with residents. (Nursing students from Sacramento State rotate during other parts of the year.)
"I wanted to bring in health and wellness education in a fun way. I thought we could disguise it as a social adventure with these young energetic students," Galloway said.
Roughly 75% of the residents participate in one-on-one visits with the students and group activities to promote health and decrease social isolation.
"We're hoping residents spend the majority of their time outside of the acute-care setting," explained Janna Le Page, a UC Davis Health registered nurse and clinical instructor. "For these students, their training up to this point is acute. It's very task oriented. In this setting, a lot of them are outside of their comfort zone. My goal is that they realize a lot of the concepts they learn in community health can transfer to acute care and vice versa."
Recognized for innovation
While students learn about the world outside a hospital setting, word of the program has reached a national audience. In August, the American Association of Service Coordinators (AASC) honored Rolling Oaks with the "affordable housing innovative program of the year." The association's annual award recognizes affordable housing professionals working with vulnerable populations.
Most of Rolling Oaks seniors lack support from family. Being a part of this community enhances their quality of life and enables them to live independently and longer in their own homes. During the quarter, the nursing students also conducted a windshield survey. They drove around Rocklin to become familiar with the community, its parks, grocery stores, health care options, transportation services and social supports.
"Meeting them where they're at showed me the importance of seeing people holistically to determine what they need and what resources they have."
— Sierra Jensen, nursing student
The result changed how students viewed the residents and the lens through which they provided care.
"This really spoke to the importance of getting to know your patients' reality. Asking difficult questions had been hard for me in the acute-care setting but being in their homes made me a lot more comfortable and able to build a rapport," said MEPN student Sierra Jensen. "Meeting them where they're at showed me the importance of seeing people holistically to determine what they need and what resources they have."
Expanding a program to connect communities
"Since gaining the national spotlight, Galloway has received inquiries from other service coordinators around the country wanting to visit and see the Rolling Oaks program firsthand."
"My goal was to see if we can be successful at Rolling Oaks then come up with a template to then put this program into our other VOA senior communities in Placer County and even expand it beyond that," Galloway said. "Now that we've been recognized nationally, the connections we've made can benefit everybody."
It can benefit more residents.
"The students brought joy, good energy and happiness to me," said resident Sandra Petersen. "[Their] real concerns made me feel better when they were here."
And it will benefit the future nurses who graduate in December.
"By going through this, I have a much better idea of what it means to be a community nurse," Uraizee said. "You're connecting all the resources and tools, educating and advocating for your patients, and trying to get them the best services out there for better outcomes."