Two faculty members honored with AMA Inspiration Awards
(SACRAMENTO)
Two UC Davis Health faculty members have joined a highly select group of physicians to be honored with a 2021 American Medical Association Women Physicians Section Inspiration Award. Micaela Godzich, associate clinical professor and associate residency program director with Family and Community Medicine, and Véronique Taché, associate professor and residency program director with Obstetrics and Gynecology, both received the national recognition.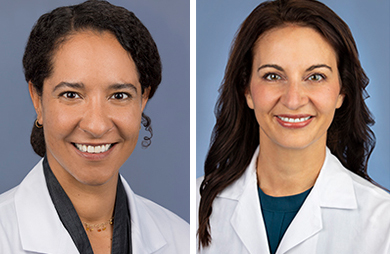 The award honors and acknowledges nearly 60 physicians who have offered their time, wisdom and support throughout the professional careers of fellow physicians, residents and students. The awards are presented annually in September, in celebration of Women in Medicine month.
Godzich was nominated by Margot Savoy, associate professor at Temple University and senior vice president of education at the American Academy of Family Physicians (AAFP).
"As the director of an academic coaching program for medical students," Savoy said in her nomination, "Dr. Godzich is passionate about training a medical workforce that is representative of the communities it serves and has demonstrated a strong commitment to caring for uninsured and underinsured patients throughout her career, providing full-spectrum care in rural and urban health care settings."
Godzich was the first UC Davis family medicine physician based at One Community Health, a not-for-profit federally qualified health center based in Sacramento. The robust partnership assigns UC Davis Health doctors to practice at the center, and Godzich oversees the training of UC Davis Health residents there. She also designed and launched the UC Davis School of Medicine's academic coaching program, of which she is currently the director.
Taché was nominated by Claudia Lopez, an obstetrics and gynecology resident at UC Davis Health, who has benefited from her mentorship.
"Dr. Taché is an inspiring role model and dedicated maternal-fetal medicine provider. She constantly advocates for residents, brainstorming innovative ways to keep us healthy and connected with one another during the pandemic," Lopez said. "She is an empathetic listener, but also is realistic with residents, which truly pushes us while making us feel heard. She has been one of the best mentors I have encountered."