Sports Medicine Fellowship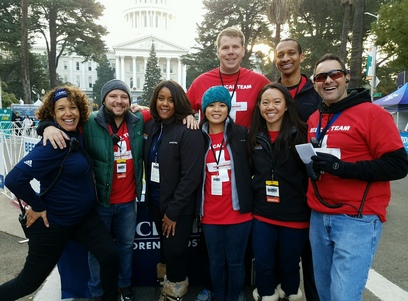 The UC Davis Department of Physical Medicine and Rehabilitation (PM&R) has long been a leader in the area of sports and musculoskeletal training. Our sports medicine fellowship has been ACGME accredited since 2009 and was in the first cohort of PM&R programs to be accredited.
Our fellowship participates in the NRMP match program and meets requirements for American Board of Medical Specialties in Sports Medicine.
Program Mission:
To educate PM&R physicians in the art and science of sports and musculoskeletal medicine with clinical, didactic, sideline and workshop educational experiences.
To guide fellows in understanding the roles of exercise and lifestyle modifications for health promotion so that they are confident in prescribing these interventions.
To create a supportive and rigorous training environment that simultaneously promotes physician wellbeing, excellence in compassionate clinical care and enhancement of the specialty through research, critical review and professional development.
| | |
| --- | --- |
| Institution: | UC Davis School of Medicine Department of Physical Medicine and Rehabilitation |
| Type of Fellowship: | Sports Medicine |
| Length of Fellowship: | 1 year |
| Prerequisites: | Completion of PMR residency and California licensure by start of fellowship |
| Starting Date: | July 15 |
| Salary Level: | Equivalent to PGY-5 (based on UC PGY salary scale) |
| Application Deadline: | September 15 of year prior to fellowship start |
| Approximate Interview Date: | October through December of year preceding fellowship start. Due to Covid-19 guidelines, all interviews will be conducted virtually in 2020. |
| Approximate Final Decision Date: | Each year, decision date and match date are determined by the NRMP. |
Application Process:
All fellowship applications accepted through ERAS only. Please submit all requested documentation, including your current CV and three letters of recommendation. Please note, one letter should come from the residency Program Director, with two other supporting letters from appropriate faculty attesting to your qualifications. Interviews will be offered to select applicants after the receipt and review of all application materials.
Description:
This fellowship is for one year in the diagnosis and clinical management of sports and related musculoskeletal disorders. Close collaboration exists with the faculty trained in Orthopaedic Surgery, Family Practice, Internal Medicine, Emergency Medicine and Radiology. The fellow will primarily work with Sports-Board certified physiatrists, Drs. Brandee Waite, Julie Ingwerson, and Brian Davis. Advanced regenerative interventional procedures are taught by Dr. Alberto Panero. Fellows will also work with Family Practice Sports physician Dr. Marcy Faustin, Emergency Medicine Sports physician Dr. Jeremiah Ray and Internal Medicine Sports physician Dr. Kevin Burnham. Fellows will work directly with the UC Davis Sports Orthopaedic Surgeons, Drs. Richard Marder, James Van den Boegarde, and Cassandra Lee. Clinic and surgical time is also spent with the Sacramento Rivercats' (San Francisco Giants' Triple AAA affiliate) Team Physician, Dr. Alan Hirahara. Fellows will also rotate with Musculoskeletal and Neuroimaging radiologists and Orthopedic Hand, Joint, Foot and Ankle, Pediatric Fracture Clinic and Spine Surgeons. Elective time is available for other rotations with approval from the Sports Medicine faculty.
Fellows will also have four weeks training in Lake Tahoe snow sports acute injury clinics during winter months and sideline medical coverage for numerous professional and amateur sporting events. These will include UC Davis sport events (NCAA D1), Sacramento State sport events (NCAA D1) and American River College (Community College). This coverage may also include the RacingThePlanet international endurance events, Sacramento Republic FC professional soccer team, as well as other regional recreational, competitive and professional sporting events.
All peripheral joint injections are performed in the Fellowship. Fellows will be instructed in palpation-guided and ultrasound guided procedures including platelet-rich plasma, prolotherapy and other percutaneous interventional procedures. Fellows will be expected to complete at least 100 ultrasound-guided procedures, and at least another 100 diagnostic ultrasound evaluations. Fellows will also be expected to attend sports surgical cases throughout the fellowship year. Fellows will maintain their EMG skills with twice monthly rotation in the electrodiagnostics laboratory with ABNEM-certified faculty supervision.
Additional funds for books, conferences and other direct educational needs may be available. Amount determined on a year-to-year basis.
Didactics are focused on medical sports topics with additional didactics on electrodiagnostics and anatomy/clinical examination for physiatrists. In addition to receiving lectures, the fellow helps teach PM&R resident MSK lectures, ultrasound workshops and provides clinical teaching to residents and medical students. Participation in the newly developed AMSSM national fellowship lecture series is strongly encouraged. Friday morning musculoskeletal radiology conference with nationally renowned MSK radiologists is a cornerstone of the fellowship. Sports Journal Club on relevant topics is held monthly.